Okay, I admit, and I'm proud to say, that I'm the "Official" Dog-Poop-Picker-Upper-Dude where I'm currently living, long story. Kind of a "George Carlin-ish, Saturday Night Live Skit" inspired by a little Cannabis, that could be a short video or animated cartoon. It's about dog-poop, so if you're a little squeamish or easily get offended by words like "Poop" "Crap" or "Shit". This story is really not for you so don't read any further.
Where I have been living for almost eight months here in beautiful Baja, Mexico, is normally home for three dogs, Dagwood, Louie, and Shelton….and sometimes more dogs, depending on whether there are Airbnb guests staying in the other two Casas that Arthur and Molly own.
When I first began babysitting my wonderful friend and companion Shelton, a West Highland Terrier,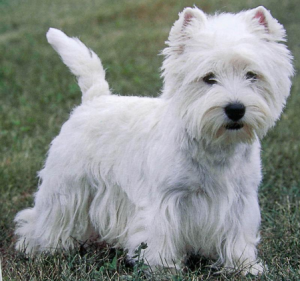 Arthur mentioned that HIS two dogs, Dagwood and Louie, were trained to go through a little opening in the fence between the main property to the backyard of the one-bedroom house next door to go poop/pee.
Before I began baby-sitting, Shelton was familiar with that back yard next door, and did his "business" there, because that's where he lived, with Annie. The only confusing thing for Shelton when I DID start to take care of him was the little cut-away section of the fence was an unknown factor to him. Sure, Louie and Dagwood knew and used that hole in the fence whenever THEY needed to take a crap or pee, but Shelton had no clue, since he now was staying with me in my Casita. I KNOW that Shelton has pooped on the patio in the past, and he still does, rarely, and I pick it up of course.
Let's introduce a few cats, and by all that is holy, those cats strictly use their cat boxes 100% of the time, so, it CAN'T be THEIR poop that is left in the front patio area of the main house, where my Casita also was located (a shared the patio). Plus, having had cats before, I kind of know the difference between cat shit and dog shit, you think?
I resisted for a few months, never really understanding the real issue at hand, and what I needed to do. I did pick up cat shit that was pretending to be Shelton's shit, and eventually gave in to the idea that it was ALWAYS Shelton's shit that I was picking up.
Over the months that ensued and as Shelton and I became permanent buddies, I began to train him to go potty outside of the property, in a few specific areas, like behind my car, or down the road in a particular spot off to the side that he seemed to get used to.
Training, as in verbally praising him with a consistent, repeated "Shelton went Poo-Poo! Good boy, Shelton went Poo-Poo!!" and then following up with a "treat" was/is my Modus Operandi. This pattern of repetitive "Praise and Reward" worked, and it occurred to me that that's what many parents do when they are potty-training their toddlers. "Good Boy, Tommy went "Poo-Poo". My reward was a cookie. Not an ordinary cookie though….a Milk-Bone Dog Biscuit.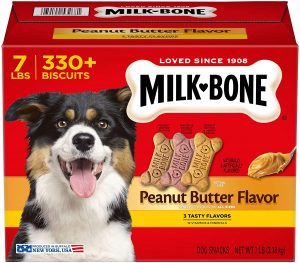 I was teething. In the past six months or so, Shelton has pooped "had an accident" only twice in my Casita. Once when I first started taking care of him while Annie was in the hospital, and once about a month ago when I was not feeling feel and slept all day. 
Those biscuits were hard as a rock, and all I could do is suck on it and gum it a lot, eventually turning portions of it into a mush I could swallow, which was what my Mother intended or purposed that biscuit to do. "Praise and Reward", just like with a dog. You can't do that with cats as they have a mind of their own, and WILL repeatedly go back to their cat box….unless of course they happen to be outside, like say, on a patio, and feel the urge….to shit.
I went from incredulous denial to full compliance in about four months. Even when there were vacationing dogs on the property, I began to feel like it was my sacrificial duty to pick up everyone's dog shit. I didn't always see it in time, so sometimes Arthur would say, "Looks like Shelton went potty on the patio again", "Oh, I got it Arthur, sorry I just woke up, I'll pick it right up as soon as I put my slippers on".
Which leads me to the satirical/comical part. Earlier tonight when I was sitting on Michelle's and Cameron's patio next door, as I was sharing my dog-poop story with them, I thought of a funny twist to the monologue (think Carlin here). I envisioned a 2,500-pound Bull breaking through both the wrought-iron gate and the secondary wooden doors at three in the morning. Rampaging around the patio area for a while, this huge bull finally took a huge crap, and then left the property the same way he came in.
Then I also envisioned waking up later that morning, opening my door to take Shelton for a "Walk", seeing Arthur up on the Bodega deck, stretching, looking down, "Good morning Tom". I know he's staring at this huge pile of "Bullshit" that is there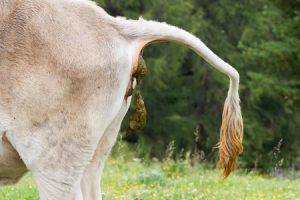 right in front of me in the center of the patio, and as I begin scooping it up with a snow shovel I say, "Got it Arthur. It could not have been Dagwood, Louie, the cats, or the other five dogs on the property. It must have been Shelton". In my mind, I'm thinking, "BULLSHIT".
It's funny. How we condition ourselves. I had resigned myself to no longer make it an issue when I was told, "Can't be Dagwood or Louie, they're trained to go next door", or, "Can't be the cats, they ALWAYS use their Cat Boxes". Having been raised on a farm in the Midwest, I do know the difference between Cat Shit, Dog Shit, Cow Shit, Duck Shit, Racoon Shit, Chicken Shit, Squirrel Shit, AND Bear Shit, and I obviously recognize dog shit that's totally different than Shelton's.
And as far as the visiting dogs five times as big as Shelton, I have picked up a few turds that had these chunks of what could have been whole kernels of corn mixed in with the regular dog shit. Nothing in what I feed Shelton even comes close to that, just saying.
I want to make it clear that I'm NOT complaining. Arthur and Molly are very sweet, kind-hearted, generous people, and I love them for that, and also for the opportunity that I have had to get to know them. So, what I have written is true and partly satirical. I just get a kick out of what comes out of my brain sometimes when I'm writing under the influence of Cannabis.
P. S. Another one of Arthur and Molly's cats has died, leaving one left. I AM truly sad for them as I know they loved their cats (the two who have passed) as much as they love Dagwood and Louie.
Peace & Abide, La paz y la morada, السلام والالتزام , שלום ושמירה, Paix et Demeure, Խաղաղությունը եւ մնալը, Мир и пребывание,, 平和と遵守, 和平與恪守, Aştî û Abad, صلح و عبید, Fred och Abide, Kapayapaan at Patuloy, Frieden und Bleiben, Mir i Ostanite, शांति और निवास, Hòa bình và ở lại, Мир и Абиде, שלום און בלייַבן, สันติภาพและการปฏิบัติ, Mir in bivanje,
Yadhum oore yaavarum kelir, "The World Is One Family"

Dr. T. C. Saxe, DD, RSISHE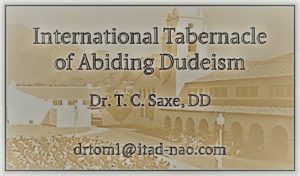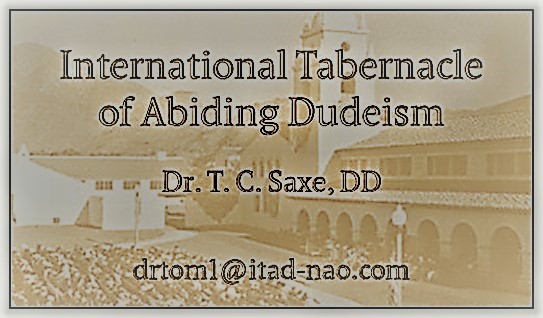 Here's a new website: https://swordsintoplowshares.net/
For those who have been keeping up with my progress with "The Dead Armadillo" story, here's my latest:
DeadArmadilloInManuscriptFormat022721A
Click on a link here to share:   
This website is not filled with a bunch of "Click-On" ads for the latest in "Toothbrushes" "Fashion" or "Free trips to wherever" generating millions of pesos in income. If you do decide to donate a few Pesos because you enjoy reading my essays, that's awesome, and I sincerely thank you.
Send Dr. Saxe a comment using the form below: