This "Blog"was started in January 2016 because I thought I was going to die during some gnarly surgery that was scheduled for the following month, which was  successfully completed mid-February 2016.  I survived.  I not only survived, the surgery changed my life, in a positive way. Maybe my stroke in July 2015 also had something to do with my concerns and attitude as well.  I never sat down to write before, as it was always thoughts and memories betrayed by the lack of discipline, the desire to write, and without a methodology or manner in which to share my thoughts and opinions short stories, comedy, poetry and other items of interest. My original intent for this website, and my writing, was to use it as a means of communicating with my two "Adult" children, and my grandson.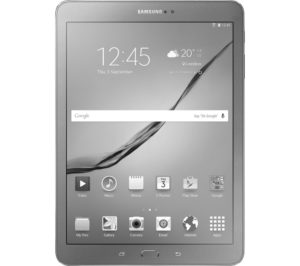 As I began to write more and more, although I was still doing the "Story Telling" for my kids, I began to also write about many other subjects, one of which is PTSD, both "Childhood" PTSD as I call it, and PTSD that our veterans suffer from the horrors of war. If you suffer from PTSD, depression or other mental afflictions, try writing. Write your thoughts, your experiences, your joy and your pain. Write about your own reaction to whatever you choose to write about. One of my subjects is Gun Control, or lack thereof. Another subject is what bad karma people do to the innocents of the world. I am against all war, and the military/industrial complex that has our life and death in their hands.
Just write. It has been very therapeutic for me. I invite all to write a post for submission here on my blog. Any subject. The point is to write and allow the process of writing to help you cope. Especially write if it pertains to battling PTSD and coping mechanisms. If you email your suggested post, I will try to set up a separate page for linking to your FB page., not sure how I'm going to structure that into my blog.
As you can see from my counter, I am well over 500,000 visits (from 157 different countries) since I started this blog in January 2016. Everyday, 60% are "return" readers and 40% are new.  I enjoy writing, and I am pleased that all of you keep coming back to my blog, thank you, and thank you to all the new readers.
One last thought. I get a lot of traffic on my website/blog, and because of that, I thought it was time to encourage my friends/readers to visit my other major website www.itad-nao.com. I am serious about what the website says and what it stands for. So, if you arrived on this front page, please take a few minutes and visit The International Tabernacle of Abiding Dudeism as well. Thank you.
My all-time favorite quote: "I've been trying to procrastinate all day, but I'm having a hard time getting started"
Peace & Abide, La paz y la morada, السلام والالتزام , שלום ושמירה, Paix et Demeure, Խաղաղությունը եւ մնալը, Мир и пребывание,, 平和と遵守, 和平與恪守, Aştî û Abad, صلح و عبید, Fred och Abide, Kapayapaan at Patuloy, Frieden und Bleiben, Mir i Ostanite, शांति और निवास, Hòa bình và ở lại, Мир и Абиде, שלום און בלייַבן, สันติภาพและการปฏิบัติ, Mir in bivanje,

Dr. T. C. Saxe, DD, RSISHE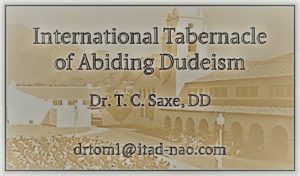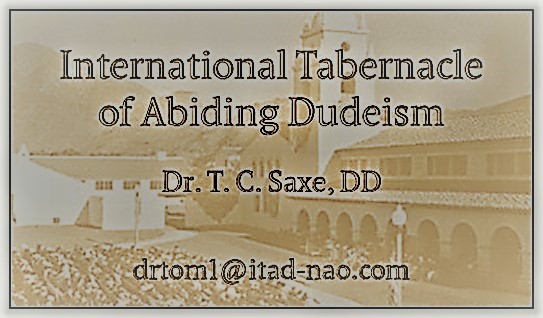 Some immediate needs. On a volunteer basis for now, we need a WEBMASTER who can work on the ITAD-NAO website, we need a person skilled in "Crowd-Funding" and "Director of Charitable Giving", we need an attorney to help in the legal matters for ITAD-NAO, including setting us up as a tax-exempt "Church", we need a Certified CPA to insure the financial integrity of the ITAD-NAO organization, we need a "Chief of Security", we need a film-maker, first for YouTube, eventually for larger platforms, plus a few other positions. We believe that somewhere down the road, a Billionaire will step up to the plate and write a check for $50 Million or so, which will turn those volunteer positions into paid positions.
For my faithful readers that are aware that I'm finally working on "The Dead Armadillo" story, like say, a Producer, or a Director, or a Screenwriter or someone or company that desires to option my novel, you can contact me at any time, night or day. If you are a one of those faithful readers that wish to read and follow my progress as I work on this novel, I will be posting updates as a PDF file on every new post on this website/blog. Here's the latest of "The Dead Armadillo"
TheDeadArmadilloManuscript110119
For those of you that would care to get involved with me on this project, as I intend to hire a professional screenwriter at some point, and produce a feature film, I have recently been approved for a KICKSTARTER campaign where you can contribute. Here is the link to the KICKSTARTER campaign.
Click on a link here to share:   
This website is not filled with a bunch of "Click-On" ads for the latest in "Toothbrushes" "Fashion" or "Free trips to wherever" generating millions of pesos in income. We are not seeking your financial support as a primary goal or function of this website, although we know at some point, that we will have the necessary funding to carry out our mission. First and foremost, If you feel this is worthy of your financial support and you do donate, that's great, and we sincerely thank you, but first and foremost we are looking for your involvement with whatever skill-sets you may have to offer. Communicate with us, help us organize, help us plan, and help us execute the plan.  Thank you
Send Dr. Saxe a comment using the form below: