This page is where I'm listing my most important story. It is the one that I have been attempting to write for over forty (40) years (based on my own life experiences).
Over the years, each attempt at writing this story was short-lived because I lacked three things, like real inspiration, my memory, (which was awakened by my last stroke in July of 2015), and enough of a skill-set in the mechanics of "Writing" .
In late September of this year (2019) I was finally the recipient of REAL inspiration for this story that I call, "The Dead Armadillo", and that last stroke I mentioned? It was close to my "Third Eye", and my memory has been super-enhanced, gradually, since that stroke.
THANKS SO MUCH FOR VISITING MY WEBSITE AND READING MY "WRITINGS"
Click the following for the latest PDF format of, "The Dead Armadillo"
TheDeadArmadilloManuscript112619
Once the screenplay is finished I will post a link
Peace & Abide, La paz y la morada, السلام والالتزام , שלום ושמירה, Paix et Demeure, Խաղաղությունը եւ մնալը, Мир и пребывание,, 平和と遵守, 和平與恪守, Aştî û Abad, صلح و عبید, Fred och Abide, Kapayapaan at Patuloy, Frieden und Bleiben, Mir i Ostanite, शांति और निवास, Hòa bình và ở lại, Мир и Абиде, שלום און בלייַבן, สันติภาพและการปฏิบัติ, Mir in bivanje,

Dr. T. C. Saxe, DD, RSISHE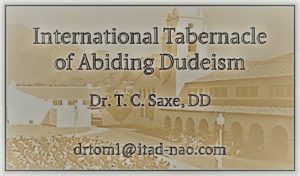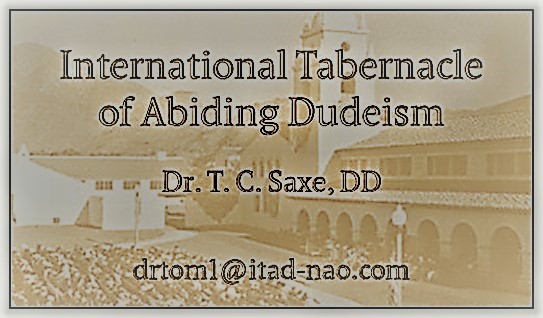 Some immediate needs. On a volunteer basis for now, we need a WEBMASTER who can work on the ITAD-NAO website, we need a person skilled in "Crowd-Funding" and "Director of Charitable Giving", we need an attorney to help in the legal matters for ITAD_NAO, including setting us up as a tax-exempt "Church", we need a Certified CPA to insure the financial integrity of the ITAD-NAO organization, we need a "Chief of Security", we need a film-maker, first for YouTube, eventually for larger platforms, plus a few other positions. We believe that somewhere down the road, a Billionaire will step up to the plate and write a check for $50 Million or so, which will turn those volunteer positions into paid positions.
Click on a link here to share:   
This website is not filled with a bunch of "Click-On" ads for the latest in "Toothbrushes" "Fashion" or "Free trips to wherever" generating income. We are not seeking your financial support as a primary goal or function of this website, although we know at some point, that we will have the necessary funding to carry out our mission. First and foremost, If you feel this is worthy of your financial support and you do donate, that's great, and we sincerely thank you, but first and foremost we are looking for your involvement with whatever skill-sets you may have to offer. Communicate with us, help us organize, help us plan, and help us execute the plan.  Thank you
Send Dr. Saxe a comment using the form below: