Whatever you desired, a healing, some sort of financial "miracle", the death of your worst enemy or your mother-in-law, whatever you prayed for, you have a 50/50 chance of it happening, or not. I suppose your "prayers" have better odds then at the Crap Table.
You say, "But I saw a woman who was paralyzed from the waist down get up and walk at one of the Reverend Hocus-Pocus Faith Healing Services last night".   Listen gullible ones, if people could be "cured" by some dude swinging and hitting you with his $3,000 suit jacket, all the hospitals in the world would be empty.
You say, "Oh, but it was the woman's "faith" and "God's" will that she was "healed"…….or not. It still was a 50/50 chance that God had anything to do with it. One thing's for sure, Reverend Hocus-Pocus took $187,654 to his bank the next day, and I'll just bet you that woman is back to cruising around in her wheelchair…..or not.
"Faith" is nothing more than your gullible belief that you are going to roll a "7" or "11" each time you throw the dice. The same thing is true with everything in life, be it our religious beliefs or anything else for that matter.
You say, "Ahhh, but my faith in God is believing in the unseen" which I respond, "Go for it, there's a 50/50 chance that you are wasting your emotional and mental well-being in vain. Still better odds than any game of chance".
What is Faith? A word we hear all the time. "Keep the faith", "Walk in faith", "Having faith". So, what is faith? Faith has several different definitions. Let me address the definition most used by religions.
"Faith" (insert gullibility here) is an absolute belief in a God or Gods, in the doctrines of ANY religions, based on spiritual apprehension RATHER THAN TRUTH OR WHAT IS SCIENTIFICALLY PROVEN TO BE A FACT.
With something we call "Common Sense", which is really not common at all, you will discover a far greater truth and wisdom. You will no longer have a fear (in the case of many religions) of going to Hell, or even of dying for that matter. You WILL embrace the simplest of truths, that we all know as the "Golden Rule", "To treat ALL others as we ourselves desire to be treated".
I'm not trying to attack or criticize anyone's particular "faith" or belief system in WHATEVER it may be. They can believe whatever they feel they must believe in. Our universe and everything in it may well be a "creation" by some supreme being, and our universe may just well be an experiment in some Petri Dish across all time and space.
Whatever your beliefs are, it's not going to prevent others, like myself from believing differently. For myself, I have discovered true peace, and wait for it……Forgiveness. For having the ability to truly forgive is the number one ingredient in the practice of following the Golden Rule.
That's what I believe, and continue to "preach" and I can tell you from first-hand experience in my own life, understanding and believing the foregoing is what has truly rewarded me with a permanent, true peace, in my mind and in my heart. Give the dice a toss folks, try the Golden Rule.
P. S. So, I just posted this post, minus my Post Script just I am now adding, (I sure hope I can convince people to come back to read this), and I'm  sitting on my patio overlooking the entire bay of Ensenada, (and the "Ensenada Smoothie" has kicked in). I decide to change the music from "Ella & Count Basie" to "Crosby, Stills, Nash & Young". As I'm super-chillin', this song of theirs begins playing, and I got the following thought, in other words, how the words inspired an entirely different, sort of strange interpretation of their words…..
I am yours; you are mine; you are what you are, and you make it hard
What have you got to lose? 
Put those words into a sort of strange light by thinking of the words of the "Golden Rule".
"I am yours" as in, I would give my life and all history of my existence, for you.
"You are mine" as in, if you follow the same path as I do, you will do the same for me.
"You are what you are" as in, it really doesn't matter to the both of us, what we believe in, as long as we both can truly live the "Golden Rule".
"And you make it hard", as in, the way you treat me with sacrificial love and compassion, I would be hard-pressed to go back to what I used to be.
"What have you got to lose", speaks for itself.
Thank you for reading this.
P. S. Being that I am an optimist, I believe that I will live long enough to one day hear my grandson say to me, "Grandpa, please tell me again what war and killing people was all about".  I believe we will find peace eventually if we can accomplish a miracle or two, or three. If you agree to all the wars, and you are a shareholder in several companies that manufacture weapons of war, it is beyond stupid, it's insane, give yourself a Lobotomy. If you are a Zebraist, or support Zebraism, your just due is coming very soon.
For my faithful readers that are aware that I'm finally working on "The Dead Armadillo" story, like say, a Producer, or a Director, or a Screenwriter or someone or a company that desires to option my novel, you can contact me at any time, night or day. If you are a one of those faithful readers that wish to read and follow my progress as I work on this novel, I will be posting updates as a PDF file on every new post on this website/blog. Here's the latest of "The Dead Armadillo"
TheDeadArmadilloManuscript111919
Peace & Abide, La paz y la morada, السلام والالتزام , שלום ושמירה, Paix et Demeure, Խաղաղությունը եւ մնալը, Мир и пребывание,, 平和と遵守, 和平與恪守, Aştî û Abad, صلح و عبید, Fred och Abide, Kapayapaan at Patuloy, Frieden und Bleiben, Mir i Ostanite, शांति और निवास, Hòa bình và ở lại, Мир и Абиде, שלום און בלייַבן, สันติภาพและการปฏิบัติ, Mir in bivanje,

Dr. T. C. Saxe, DD, RSISHE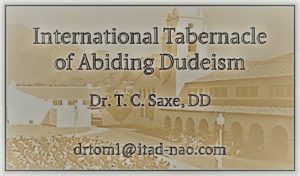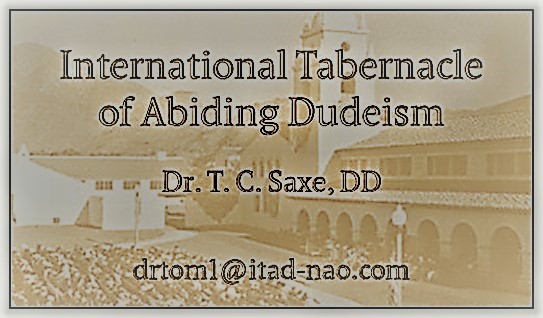 Monetary Donations to The International Tabernacle of Abiding Dudeism, ITAD-NAO are TAX-DEDUCTIBLE, (excluding Reese's Peanut Butter Cups and Home-Made Venison Jerky, that'll be our little secret)
90% of your donations (except for the Reese's Peanut Butter Cups and the Home-Made Venison Jerky) will go directly to verifiable sources that provide humanitarian aid around the world beginning with those legitimate groups that give aid to Palestine and the Palestinian people. Other immediate areas and causes that will receive financial support from ITAD-NAO will be legitimate groups that aid the people of Yemen, and other known areas around the world that are in crisis. In addition, ITAD-NAO will also contribute directly and indirectly to the needs right here in the good ole' USA, like helping the Homeless, and the poorest of the poor achieve better stations in life.
The remaining 10% will be used to maintain the ITAD-NAO Website once it is programmed and fully operational. In its final configuration it will be ENCRYPTED with an encrypted "Communication Suite" for Email, Texting and Video-Chatting. A significant part of the "Communications Suite" will be the ability to include 10 to 15 "Practitioners" (not Parishioners) in Conferencing in groups, and perhaps large convention-type assemblies via closed-circuit TV and the website portal. This is the #1 priority for ITAD-NAO.
If any attorneys happen to read this, we do need your assistance to help with all the legal aspects that we need help with.
If you happen to be a Millionaire or Billionaire and you feel inspired to help us financially, please contact us at your earliest convenience for an in-depth discussion on how we feel our organization can help change our world and it's people in a very significant and positive way.
If you happen to be a regular visitor to this website and you not only enjoy my writing but you are also "Like-Minded" with my concerns and my efforts, please "Click" on the PayPal "Donate" button below. It will take you to the ITAD-NAO PayPal donation form. One dollar, or 25 thousand dollars will be equally appreciated, AND used for ITAD-NAO project, and like was previously mentioned, your donation is 100% Tax-Deductible. (The Reese's Peanut Butter Cups and the Home-made Venison Jerky will be eaten by the ITAD-NAO staff).
Thank you one and all,
Some immediate needs. On a volunteer basis for now, we need a WEBMASTER who can work on the ITAD-NAO website, we need a person skilled in "Crowd-Funding" and "Director of Charitable Giving", we need an attorney to help in the legal matters for ITAD_NAO, including setting us up as a tax-exempt "Church", we need a Certified CPA to insure the financial integrity of the ITAD-NAO organization, we need a "Chief of Security", we need a film-maker, first for YouTube, eventually for larger platforms, plus a few other positions. We believe that somewhere down the road, a Billionaire will step up to the plate and write a check for $50 Million or so, which will turn those volunteer positions into paid positions.
Click on a link here to share:   
This website is not filled with a bunch of "Click-On" ads for the latest in "Toothbrushes" "Fashion" or "Free trips to wherever" generating millions of pesos in income. We are not seeking your financial support as a primary goal or function of this website, although we know at some point, that we will have the necessary funding to carry out our mission at ITAD-NAO. First and foremost, If you feel this is worthy of your financial support and you do donate, that's great, and we sincerely thank you, but first and foremost we are looking for your involvement with whatever skill-sets you may have to offer. Communicate with us, help us organize, help us plan, and help us execute the plan.  Thank you
Send Dr. Saxe a comment using the form below: