Christianity, in all its sometimes-bizarre iterations, is the most radicalized and subsequently the most ridiculous religion of them all. To so adversely and perversely change the intent of a prophet's words of Love, Compassion and Forgiveness into a religion that condones apartheid actions by others, (and sometimes because of their own actions), is, and should be, a "Wake-Up Call" for our entire species.
Many religions have their own percentage of Wackos, killing people because of the perverse radicalization of their beliefs, but Christianity wins the Grand Prize, the Big Fat Cigar. Just study the history of our species folks. I have, and I still do. Just like the so-called Pentecostal Revivals over just the past one hundred years or so.
As it morphed over the years, it spawned so much bad shit I don't know where to begin describing the absolutely insanity. We could start with the "Prosperity Preachers", you know, the ones who laugh all the way to the bank with your "Tithes & Offerings" as they place their order for their new Gulfstream G650 and their third Rolls Royce.
Or we could have a discussion about the rampant sexual abuse of children by Catholic Priests.
Or we could just talk about the so-called "Christians" who lead double lives, pretending to be "Holier than Thou" when in actuality, they are the biggest "Hypocrites" of ANY religion.
Zionism, the radical distortion/theft of a religion shares the Big Fat Cigar by the way., and they're laughing all the way to their bank as well. Just ask ANY true follower of the Hebrew faith.
I'm sure some of you "get it". Those of you not only know what I am talking about, you can add to these comments of mine.
Time is bringing us to a fork in the road. You can follow all the rest of the sheeple down the left path, or, if you DO get it, come with me as I take the "Right" road into the age of Aquarius.
There still is time for the rescue of our species. Join "The International Tabernacle of Abiding Dudeism" at www.itad-nao.com
For those who have been keeping up with my progress with "The Dead Armadillo" story, here's my latest:
TheDeadArmadilloManuscript112619
Peace & Abide, La paz y la morada, السلام والالتزام , שלום ושמירה, Paix et Demeure, Խաղաղությունը եւ մնալը, Мир и пребывание,, 平和と遵守, 和平與恪守, Aştî û Abad, صلح و عبید, Fred och Abide, Kapayapaan at Patuloy, Frieden und Bleiben, Mir i Ostanite, शांति और निवास, Hòa bình và ở lại, Мир и Абиде, שלום און בלייַבן, สันติภาพและการปฏิบัติ, Mir in bivanje,
Yadhum oore yaavarum kelir, "The World Is One Family"

Dr. T. C. Saxe, DD, RSISHE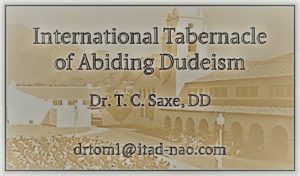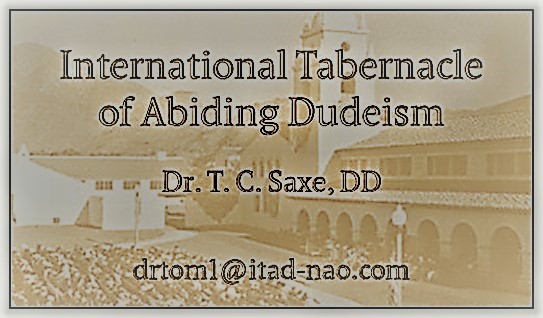 Click on a link here to share:   
This website is not filled with a bunch of "Click-On" ads for the latest in "Toothbrushes" "Fashion" or "Free trips to wherever" generating millions of pesos in income. If you do decide to donate a few Pesos because you enjoy reading my essays, that's awesome, and I sincerely thank you.
Send Dr. Saxe a comment using the form below: