Something new (below meme) posted by Darren Halstead on April 21, 2019: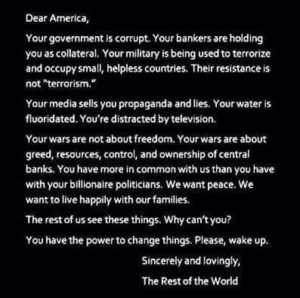 Post written by Darren Halstead:
And people think that Christians are any better than muslims, they make illegal wars, and kill millions, the Muslims kill one person going where they shouldn't have been… considering what our country is doing to them. "ILLEGAL WAR" 911 INSIDE JOB, OUR COUNTRY IS ALL BUT EXTERMINATING THEM OVER LIES, RAPING THEIR RESOURCES, FORCING THEM TO OUR WAY OF LIFE….
WHAT WOULD YOU DO IF THE TABLES WERE TURNED AND YOU WERE THEM…?
THE HATE IS MEDIA ORIENTED NOT FACTUAL… THEY HAVE REASON TO BE VERY PISSED, WE ATTACKED THEM.. THEY "DIDN'T ATTACK US FIRST" KEEP THAT "FACT" IN MIND BEFORE YOU CHOOSE TO TRUST THE MEDIA PROPAGANDA….
WE STARTED WAR WITH THEM…. "OVER LIES:…
If you think our government and media is the truth, there is no saving you… you are terminally stupid…
911 was an inside job, a wag the dog to get us in to a war for Gold, Oil, Drugs…
If you think any different then your an idiot… the proof is obvious, it was a controlled demolition, and any one that has seen a real building fall from an explosion (not controled) knows that the building topples, it doesn't fall straight down, it would have slid off to the side and took out more building's but it fell neatly in to it's own profile… that would "NEVER" HAPPEN…
jet fuel has no chance of melting the steal in that building as it is, but the fact that 30,000 gallons of it could do it is even more ludicrous when you consider that wouldn't even fill one office in the building…
Facts:
30,000 gal cubic ft displacement is 4666.71sqft anyone that has a 10000sqft house can see that that wouldn't even be enough to set a Walmart on fire for long… and even the biggest Walmart is less than 1/30th of the size of the building at 179,000sqft of the 3millon sft of the total building it supposedly brought down one floor was 43,680 sqft not to mention that most of it blew out the side and burned off in a few seconds…
Use your common sense please… this idiocy has to stop.. our government is wrong to have even been there to begin with… without a doubt…
Went back and got the actual numbers, and did the math…. it's called resesrch… and telling me that less than 30,000 gallons of jet fuel took down a 3million sft of building… is laughable
And while jet fuel could weaken steal rebarb, the beams in the building were A36 steal…
And even if it weakened the steel… it would only reach temperatures to do so on one side of the building… that means it would topple, not fall straight down…. and there is not one bit of science to prove it, if there were they would use it to bring down all buildings up for destruction because it is very much cheaper than… it cost $40,000 to $80,000 per 10,000 sqft…. so it would only take 156,000 dollars to bring down 3million sqft…. that's a bargain if I ever seen one.
Wanna send a message?