Trump, (along with a lot of other people), is so pathetically out of touch with most of America, Hispanics, any people of color, and African Americans especially. At a church service in Detroit this morning, it was as if he was taking his own stab at the Emancipation Proclamation, trying to win the African American vote. He had to mention Abraham Lincoln of course. The party of Lincoln. What a fucking asshole! He may as well have said, "Vote for me, I will free you ALL from Slavery!"
Guess what Donald, slavery was abolished a long time ago. If he was speaking in front of a bunch of turkey farmers, he would have told them he promised to put a turkey on every table. Carson also is about as stupid as they come, brain surgeon and all, tagging along behind Trump. Honestly, believing anything either one of them says, is like believing that David Duke is married to a black chick, and loves fried chicken. Well, he MIGHT like fried chicken.
The pursuit of power out-trumps any logic or common sense, wither you are running for POTUS, president of your 9th grade class, or trying to beat out coworkers for a seat at the head table at the annual corporate awards dinner.
For Carson, he must have been promised a cabinet position in a Trump administration, heaven forbid. Maybe after November, Trump and Carson could star in their own "Amos and Andy" sitcom. Kind of a "Jeffersons" or "All in the Family" in reverse, with Carson playing the condescending butler to Trump playing himself, the bigoted billionaire in his gold-plated ivory tower, along with his trophy wife.
Wouldn't it be interesting if some anti-Trump group actually was able to install audio/video bugs throughout his palace in the sky? Forget Watergate. How about Trump gate? Releasing all the rancid audio/video from his most private moments. I think it would make for good, if not great television. This footage would have to be on HBO however, because of the language and graphic footage.
Perhaps scenes like, Trump sitting on his golden toilet, looking at pictures of Hillary while masturbating? That would be funny.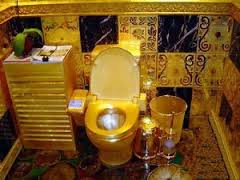 Or discussions between Trump and his children, revealing what a bigoted asshole he is, they are. Video of Carson, condescending "butler-like", taking instructions, "Yes Sir, Mr. Trump, I will certainly do that, Mr. Trump". If it WAS a Sitcom, I would laugh.
Signs of the times, folks. This is all part of the evolution of our species. Racism and bigotry are alive, and there is only one remedy. If you read my blog in it's entirety, you will discover some age-old simple truths, love one another, have a heart of mercy and compassion for one another, be gracious and kind.
I know this is difficult for bigots and racists of ALL colors to understand this concept, but it really works, and CAN work in YOUR life. Yes, we are evolving. Let's try to have a positive effect on our evolution.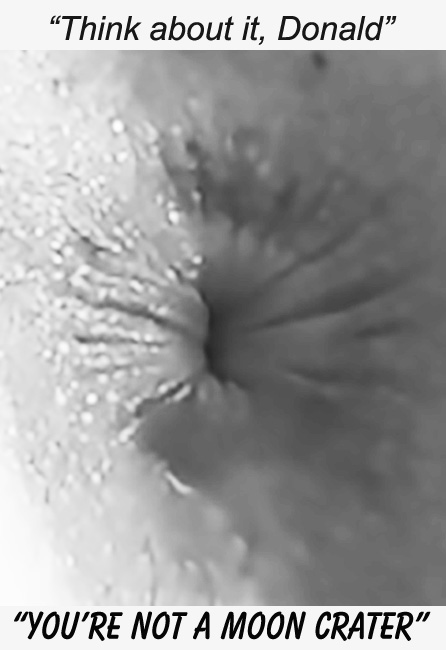 Being honest with someone, and telling them how much of an asshole they are, can be done in love, and be therapeutic for that asshole.
When I say it, it really IS out of compassion, especially for someone as bigoted and racist as Donald Trump is. Many believe that he needs professional help with his mental condition, (along with most of his followers). So in love I say, "Donald, you're NOT a Moon Crater". Peace. Abide.
Peace & Abide, La paz y la morada, السلام والالتزام , שלום ושמירה, Paix et Demeure, Խաղաղությունը եւ մնալը, Мир и пребывание,, 平和と遵守, 和平與恪守, Aştî û Abad, صلح و عبید, Fred och Abide, Kapayapaan at Patuloy, Frieden und Bleiben, Mir i Ostanite, शांति और निवास, Hòa bình và ở lại, Мир и Абиде, שלום און בלייַבן, สันติภาพและการปฏิบัติ, Mir in bivanje,

Dr. T. C. Saxe, DD, RSISHE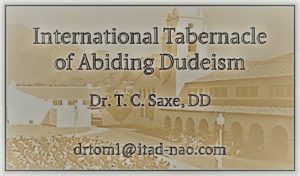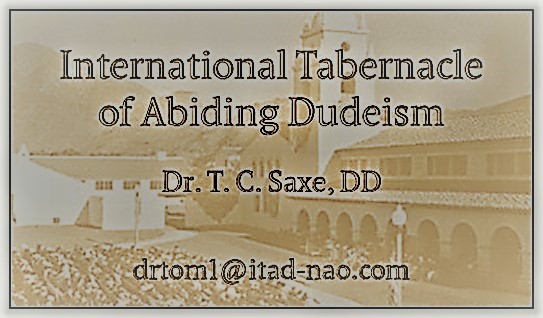 Some immediate needs. On a volunteer basis for now, we need a WEBMASTER who can work on the ITAD-NAO website, we need a person skilled in "Crowd-Funding" and "Director of Charitable Giving", we need an attorney to help in the legal matters for ITAD_NAO, including setting us up as a tax-exempt "Church", we need a Certified CPA to insure the financial integrity of the ITAD-NAO organization, we need a "Chief of Security", we need a film-maker, first for YouTube, eventually for larger platforms, plus a few other positions. We believe that somewhere down the road, a Billionaire will step up to the plate and write a check for $50 Million or so, which will turn those volunteer positions into paid positions.
And now for an unpaid advertisement:
For my faithful readers that are aware that I'm finally working on "The Dead Armadillo" story, like say, a Producer, or a Director, or a Screenwriter or someone or a company that desires to option my novel, you can contact me at any time, night or day. If you are a one of those faithful readers that wish to read and follow my progress as I work on this novel, I will be posting updates as a PDF file on every new post on this website/blog. Here's the latest of "The Dead Armadillo"
TheDeadArmadilloManuscript102019
For those of you that would care to get involved with me on this project, as I intend to hire a professional screenwriter at some point, and produce a feature film, I have recently been approved for a KICKSTARTER campaign where you can contribute. Here is the link to the KICKSTARTER campaign.
https://www.kickstarter.com/projects/thedeadarmadillo/the-dead-armadillo
Click on a link here to share:   
Send Dr. Saxe a comment using the form below: