She had the will to live, she just didn't have the guts, literally. Over a eleven year period, beginning when I was four years old, Ed put her in the hospital six times, Two for birthing Johnnie and Mary, and four times for things like, ruptured spleen, bruised kidney, and dying.  Ed knew exactly how to hit her, since he was a POW. He also was specially trained for his assignment in Europe during World War II. He knew how to hit someone in a way that caused great pain, but no damage. He knew full well that it was this four times out of dozens and dozens of beatings, where he had made mistakes and caused injuries severe enough to be hospitalized.
First time hospitalized, she had her Spleen removed. Second time in the hospital a few years later, they removed her Gall Bladder because of the damage he had caused. Third time it was something else. Fourth time in the hospital, she died. In the months before her death, she had found a new zest for life.  Mom and Ed were separated for some time, and she was seeing another man. Part of that time that Ed was gone, was when he was in the Looney Bin, getting therapeutic electric shock treatments. I can't remember his name, Robert, or Henry? Lets call him Henry.  He was really a cool dude. He was so nice to Mom. In what I guess was the early stages of the romance, we would visit him and his daughter. There were a few other times, that Johnnie and I would go with her to meet Henry and his daughter at the Walk Right Inn near Coon Lake, which was his hangout and close to where they lived. Mom must of considered it safe to go there because Ed hung out at a bar in Ham Lake.
I do remember her name, Claire. Claire was a little over a year younger than me, and really beautiful.  I loved her Red hair and freckles. She had a wonderful singing voice, perfect pitch. I thought she would make a great younger sister for me, and a great older sister for Johnnie. The five or six times that we went visiting at their home, (I have no idea how many times Mom visited by herself), Henry would give me a quick little lesson on his 1959 Gibson Les Paul guitar. Then he and Mom would disappear, probably to the bedroom, I don't know, leaving Johnnie, Claire and I alone pretending we were Rock & Roll stars. Very quickly, I learned four or five chords, and we were singing (or trying to) "Rock around the Clock". We had it nailed by the sixth visit. Their relationship lasted up until Mom was hospitalized that last time. She hadn't suffered from one of Ed's beatings for probably eight months. She died on the third day, from the complications from all the beatings. Strange thing. Six months later, Henry died, and I never saw Claire, or the Les Paul again.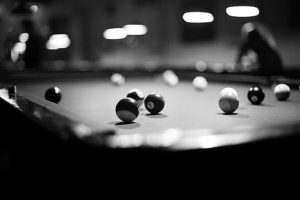 It was at the Walk Right Inn that I learned how to shoot pool. I also learned the difference between a mad lunatic drunk, and Henry. When Ed drank, he got inebriated, socially unacceptable, and violent. When I saw Henry drinking, I saw a man that didn't drink to get drunk. Early lesson in life. I was really saddened when Henry died, and I was "Shell Shocked" when mother died. Look for the post where I talk about forgiveness.
We sometimes think it is hopeless and against all odds, but hey, we are part of the 99% against the 1% that currently have absolute control. We can and shall overcome the odds, but only if we truly ORGANIZE. Otherwise, we are all just as a "Single Fly, Farting in the Wind". Some thoughts on possible miracles/solutions can be found on the following GOFUNDME page. If you have questions, suggestions, comments, etcetera, again, please feel free to contact me. You can contact me by farcecrap PM, send me an email or fill out the contact form below.
https://www.gofundme.com/f/like-a-single-fly-farting-in-the-wind
For my faithful readers that are aware that I'm finally working on "The Dead Armadillo" story, like say, a Producer, or a Director, or a Screenwriter or someone or a company that desires to option my novel, you can contact me at any time, night or day. If you are a one of those faithful readers that wish to read and follow my progress as I work on this novel, I will be posting updates as a PDF file on every new post on this website/blog. Here's the latest of "The Dead Armadillo"
TheDeadArmadilloManuscript101019
For those of you that would care to get involved with me on this project, as I intend to hire a professional screenwriter at some point, and produce a feature film, I have recently been approved for a KICKSTARTER campaign where you can contribute. Here is the link to the KICKSTARTER campaign.
Peace & Abide, La paz y la morada, السلام والالتزام , שלום ושמירה, Paix et Demeure, Խաղաղությունը եւ մնալը, Мир и пребывание,, 平和と遵守, 和平與恪守, Aştî û Abad, صلح و عبید, Fred och Abide, Kapayapaan at Patuloy, Frieden und Bleiben, Mir i Ostanite, शांति और निवास, Hòa bình và ở lại, Мир и Абиде, שלום און בלייַבן, สันติภาพและการปฏิบัติ, Mir in bivanje,

Dr. T. C. Saxe, DD, RSISHE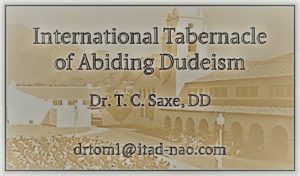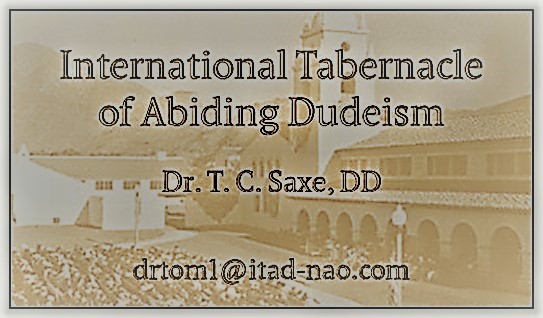 Some immediate needs. On a volunteer basis for now, we need a WEBMASTER who can work on the ITAD-NAO website, we need a person skilled in "Crowd-Funding" and "Director of Charitable Giving", we need an attorney to help in the legal matters for ITAD_NAO, including setting us up as a tax-exempt "Church", we need a Certified CPA to insure the financial integrity of the ITAD-NAO organization, we need a "Chief of Security", we need a film-maker, first for YouTube, eventually for larger platforms, plus a few other positions. We believe that somewhere down the road, a Billionaire will step up to the plate and write a check for $50 Million or so, which will turn those volunteer positions into paid positions.
Click on a link here to share:   
Send Dr. Saxe a comment using the form below: