Typically, when I'm playing Texas No Limit Hold' Em Poker on pokerstars.net, I sometimes run a table, and when I am running the table and I put somebody out the door and give them directions to the bingo hall down by the Sushi Bar (which is why I know where the Bingo Hall is), I type in the Chat Box, WOOPSIE #1, WOOPSIE #2, WOOPSIE #3 and so on, just to stick a goat-head under anyone's ass until they respond to my "chat" and all the way through until I've won the tournament.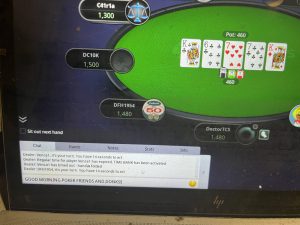 So, my first greeting at a table: GOOD MORNING FRIENDS AND DONKS! This chat function on PokerStars provided an awesome way to meet and make new friends on there like any other social media like Facebook…..from all over the world, and have fun table-talkin' the Donks.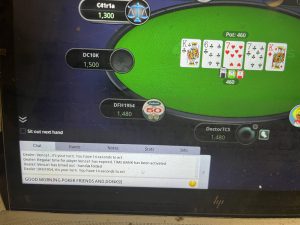 As you can see in the image, I felted two Donks and tripled up, in one hand (became the chip leader, 1 of 18, so, as usual. I typed in WHOOPSE #1. On the very next hand, REALLY BAD BEAT,  and I was heading down to the Sushi Bar next in the Food Court near the Bingo Hall. I had a Full-House, Threes over Aces (I hate Pocket Rockets sometimes). ALL-IN TIME FOR WHOOPSIE #2 I thought. The other player had a Full-House, Queens over something. It happened so quickly I only saw the trip Queens before I was unceremoniously kicked off the table, hahahahahaha (no image available due to pure frustration).
I'm now taking a break from the poker table and writing this thought. When the last table was down to five players, I had typed in four "WHOOPSIE's". The tournament just before this one I also won, but I had typed in 8 WHOOPSIE's. One of the three finalists besides myself had been quite obnoxiously belligerent in his text messaging to me this whole tournament, calling me names, etcetera.
I took it all in stride cause I'm known as The King Of Table Talk in the cash-game high-stakes poker circuit. So, CJ as we will call him, types in "you are a cock sucking dick-head mother-fucker and I hope you did" after I had just felted player #6. I added a little "Bling" (red arrow) to this AI-Created work of art. Ask me how I did THAT, all of you that don't accept AI Art as a whole.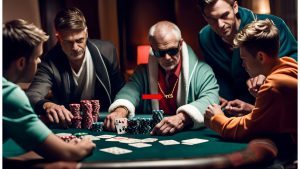 So, this is what I typed back instead of being hurt and personally upset that this normally to be thought of as an evil person could talk to me like that, I wrote instead, "Hey CJ, I hear your grandma calling from the men's room near the Bingo Hall. She's asking for more condoms…..and she's made $75 for you so far". You can't talk like that in a live tourney, as you MIGHT end up dead with your cock in you mouth, dead in a dipsy-dumpster. Online, it's a great way to make friends, HAHAHAHAHAHAHA!
Now, right after I typed this, the dude was furious and had it been a live tournament, my security team would have had to restrain him until I could get him to take a hit off my awesome Vape Pen that I designed and have manufactured locally.
Now we are down to three players. CJ, myself, and Tony who I knew personally from the live-poker circuits we both tour from time to time.
CJ is typing so much anger and frustration right now, I swear he must be a woman. I then type,"YOU'RE A GREAT PLAYER CJ, OTHERWISE YOU WOULDN'T BE HERE AT THE FINAL TABLE. He responds with a hundred "FU's" and I type in, "HAHAHA". Then I typed in my final message to CJ JUST BEFORE I TYPED IN WHOOPSIE #4.
CJ, YOU'RE A GREAT POKER PLAYER BUT LOW ON THE SCALE FOR TABLE-TALK OR YOU ARE COMPLETELY ILLITERATE AND YOUR ABILITY TO WRITE HAS NEVER GONE BEYOND THE FUFUFUFUFUFUFUFUFUFUFU!!!!!!! stage.
I'M THE KING OF TABLE-TALK AND A FAIRLY GOOD POKER PLAYER TO BOOT. SHOOT, I just won four tournaments in a row today, and for those of you that read this that also play on PokerStars, and really know me, you KNOW how difficult that is to achieve.
Anyway, there's only one bracelet given out for being THE KING OF TABLE-TALK, and I've been wearing it for over forty years now. I'll either give up my bracelet and crown when my peers witness my resignation and concession to my replacement KING OF TABLE TALK, or, I'll die with it on my right wrist to the grave. No one has ever come close. The Poker Brat will turn around and leave a tournament if he finds out I'm there. Regardless of whether I know he's going to be entertaining us all (entering a tourney), I always request of the Poker Room Manager to seat the Poker Brat and I at the same table if he registers, which is usually the day before.
The last time he and I were face-to-face, I put him in his place, not down like everyone else tries to do, and I did it so eloquently polite filled with respect, I received a standing ovation and cheers throughout the first floor of the Casino.
People a hundred yards away was wondering what all the excitement was about. Someone answered, "That was Poker Brat's first time playing against Dr. Saxe. The Doc ripped him apart".
Then CJ was gone. Tournament was over in four WHOOPSIE's and I was collecting my winnings. I'll probably never see CJ again. Oh well, I DID say nice things about him and his game play.
Image made with the awesome AI-Art Generator NightCafe at https://creator.nightcafe.studio/ Doctor Saxe's Gold & Diamond Necklace thanks to Photoshop, The KING OF TABLE TALK Bracelet is under his robe on his right wrist.
We may, or may not have to leave this property because someone has turned us in as operating a "Trailer Park" without the proper license and zoning. May not because the county gal that Paul spoke to in person was 100% on the side of HOPE RESCUE. She did everything in her power to try to help Paul figure a way out of this mess we're in. My optimism tells me that the people responsible for serving Paul hold off as long as they can, after THEY find out what this is all about. A grieving couple with PTSD whose son came home in a black rubber bag from Afghanistan. I'm still trying to figure out how to help Joe and his wife get treatment. So, THIS post, I'm asking al my faithful friends that come to my website on a daily basis to contribute ANYTHING you can to saving HOPE RESCUE, two dudes living on Social Security, our families,  and Ton Ton and his children. My PayPal link is further down this page. Thank you!
This essay was brought to you by those wonderfully visionaries at IRTHKOIN. The Evolutionary Crypto-Currency coming soon to your laptop, computer, and cellphone, stay tuned for news.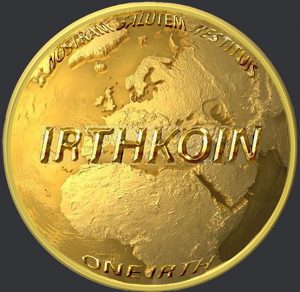 See my AI music and art at my YouTube channel here:  https://www.youtube.com/@music-art-theunknownsockpuppet
Visit my Spotify Channel for my AI created music as well, distributed by Distrokid to Amazon as well as 20 other platforms, here: https://open.spotify.com/artist/1ChRyiBPXTVraeCw6lpLKx
Visit my Spotify Channel Poker School here:  https://open.spotify.com/show/2oC0tzuIu6QjkJVhDG3Pfb
Peace & Abide, La paz y la morada, السلام والالتزام , שלום ושמירה, Paix et Demeure, Խաղաղությունը եւ մնալը, Мир и пребывание,, 平和と遵守, 和平與恪守, Aştî û Abad, صلح و عبید, Fred och Abide, Kapayapaan at Patuloy, Frieden und Bleiben, Mir i Ostanite, शांति और निवास, Hòa bình và ở lại, Мир и Абиде, שלום און בלייַבן, สันติภาพและการปฏิบัติ, Mir in bivanje,
Yadhum oore yaavarum kelir, "The World Is One Family"

Dr. T. C. Saxe, DD, RSISHE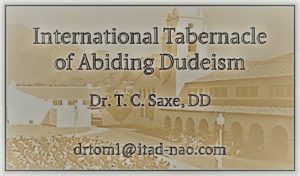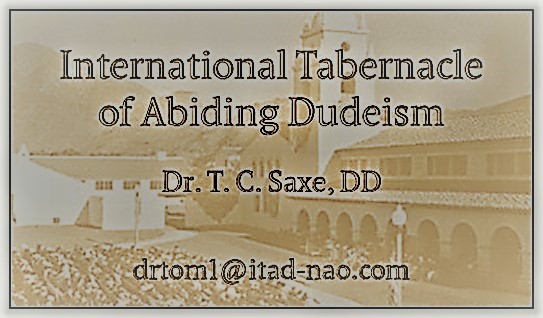 Here's a new website: https://swordsintoplowshares.net/
For those who have been keeping up with my progress with my new book, "Ramblings of an Old Fart" here's my latest in PDF format:
If you just happen to be a REAL publisher of "Books", you know, hard-bound, or, your rich daddy or uncle is, please contact me to get into the fierce bidding war to place your bid to publish my book. Just kidding, I'm really seeking a Literary Agent however, if you are one or your rich dada or uncle is. contact me.
Here's a few Social Media links for sharing, thanks:
This website is not filled with a bunch of "Click-On" ads for the latest in "Toothbrushes" "Fashion" or "Free trips to wherever" generating millions of pesos in income. If you do decide to donate a few Pesos because you enjoy reading my essays, that's awesome, and I sincerely thank you.
Send Dr. Saxe a comment using the form below: