For my own "Patting Myself On The Back" routine, I think SOMETIMES, I come up with the best (ok, cleverest) image and title that is totally different from my original farcecrap posting of the exact same story.
The reason I purposely try to do that, is because if I used the same image that I used for my farcecrap post, my friends and others that MAY have actually read it, would naturally think my website post is the same when they come across my posting, that is the "Link" to the story as posted on my website…..That "I've read this already" kind of moment. I WANT folks to visit my website, and I purposely use farcecrap as a means of getting folks to actually go there. Then when they DO "Click" on the link, thinking it's a completely different story, and they begin reading, and they have that "I've read this already" kind of moment, perhaps they will stick around my website and read other schtick. So, for those that read this far, and DID have that "Been there, done that" kind of moment, stick around and check out the almost six years of writing on my website that has accumulated over a million visits from 181 countries (at last count) so far. For those that did not read my original farcecrap posting, please read on, as I think you'll like this one. Thanks!
Here's the Meme posted by Brigette Arias to the farcecrap "Group" ATHEISM SWARM  that inspired my essay  (that originally was my "comment" on the farcecrap her post).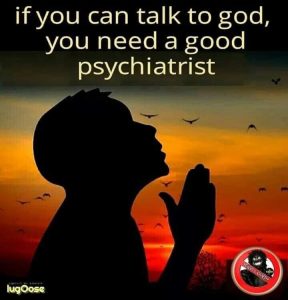 True Story. Forty years ago, during the second or third redux of the Evangelical movement in 125 years or so, first regurgitating amongst the non-denominal group, then the Holy Roller portion of the protestants, and then eventually the Catholics, jumped on board the "Crazy Train".
I personally knew several pastors/evangelists who would interrupt their semen, whoops, "Sermon", and start literally, talking to god, "YES GOD! I HEAR YOU. NO, I HAVEN'T SPANKED THE MONKEY TODAY. MARY'S FINE. YES, I'LL TELL HER THAT YOU SAID HELLO……WHAT! WE'RE GOING TO BUILD THAT WING ON THE PARSONAGE NOW? WOW GOD! THANK YOU!…..Then the Pastor would like, snap out of it, face the audience (congregation) and say, "WELL, YOU HEARD IT MY DEAR BROTHERS & SISTERS, STRAIGHT FROM GOD TO MY EARS ONLY! GOD WANTS US ALL TO WRITE A BIG CHECK SO WE CAN BUILD THAT NEW ADDITION ONTO THE PARSONAGE". Actually, it's a 1,500 square-foot addition onto the existing MASTER-BEDROOM SUITE THAT'S ALREADY THERE.
I knew many personally because back in the day, I was a gospel singer. Young and dumb, I really tried hard to believe these assholes. I sang because I was fairly good at it, and enjoyed the accolades and worship myself, made a little extra spending money, met some chicks, life was good.
FYI, at the time I was teaching "Voice" in Junior College, eventually blew off a scholarship to Juilliard and stayed in Nashville instead. I was driving to NYC from California and stopped in Nashville to visit friends, and ended up staying. Point of explaining all that is to say, I was good enough for them (the evangelicals), so I sang.
It wasn't long after that, that I realized what a scam all religions are, in one way or another. The ONLY scam that I applaud is the idea behind the founding of a particular "Church" by L. Ron Hubbard. What a FUCKING GENIUS that dude was! Here's a dude that could not sell a book to a blind drunk thinking it was a bottle of 125-year-old Scotch instead of a book.
Just imagine, there he is, moping around as usual, and the proverbial lightbulb came on, "Shit all I write are shitty science-fiction novels. I think I'll use my science fiction shit to start a new religion and call it….wait for it……SCIENTOLOGY! What a fucking genius! ANYWAY, in conclusion in my rather lengthy response to the Meme, "Only fools believe the foolish, and talking to "GOD" is about as foolish as it gets". – Dr. T. C. Saxe, DD, RSISHE
P. S. If you are interested in reading more of my schtick (wind range of subjects), go to my website at tcsblog "dot" "net". Thanks!
The image I used was from "God Told Me To" (released in some theatrical markets as Demon) is a 1976 science fiction/horror film written and directed by Larry Cohen.
Peace & Abide, La paz y la morada, السلام والالتزام , שלום ושמירה, Paix et Demeure, Խաղաղությունը եւ մնալը, Мир и пребывание,, 平和と遵守, 和平與恪守, Aştî û Abad, صلح و عبید, Fred och Abide, Kapayapaan at Patuloy, Frieden und Bleiben, Mir i Ostanite, शांति और निवास, Hòa bình và ở lại, Мир и Абиде, שלום און בלייַבן, สันติภาพและการปฏิบัติ, Mir in bivanje,
Yadhum oore yaavarum kelir, "The World Is One Family"

Dr. T. C. Saxe, DD, RSISHE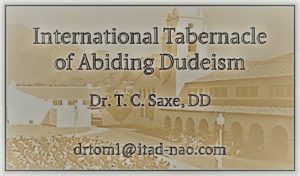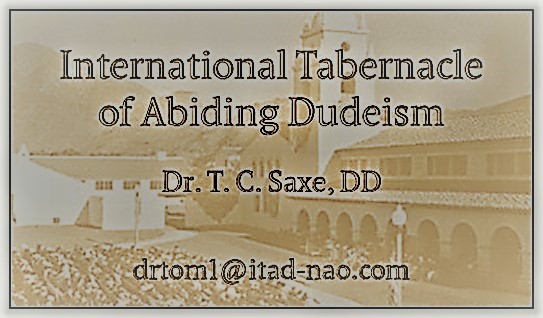 Here's a new website: https://swordsintoplowshares.net/
For those who have been keeping up with my progress with "The Dead Armadillo" story, here's my latest
DeadArmadilloInManuscriptFormat051021
Here's a few Social Media links for sharing, thanks:
This website is not filled with a bunch of "Click-On" ads for the latest in "Toothbrushes" "Fashion" or "Free trips to wherever" generating millions of pesos in income. If you do decide to donate a few Pesos because you enjoy reading my essays, that's awesome, and I sincerely thank you.