Postscript Up Front: I've decided to pitch this as a beer commercial, preferably Coors Light. Final scene at the end ties it all together.
I wrote a new bit for my "Stand-Up" routine. This white dude, a "Cable Guy" that stopped in for his first time, on his way home (for a beer after a long day installing satellite dishes, which was the rage thirty years ago), was sitting at the bar in the Walk Right Inn. The way it got the name? It was named after a Chief from back in the mid-1800's, Chief Walks Right because when he walked, he never walked in a straight line. He always leaned to his right when walking, so even just crossing a Wagon Trail just trying to get to the other side, it wasn't easy for him, it would take him a little time, longer than normal, i.,e, abnormally longer than normal. He WOULD get there eventually.
Anyway, this nice little neighborhood"Reservation" bar named for that old Chief, was opened in 1954, and was the only decent place to go. The Walk Right Inn was packed being a Friday night, and the only non-Indian dude in the place was Chester the "Cable Guy". In between nakareokanana songs, which in Indian means "Karaoke", Chester's cell phone goes off (incoming call), "DAADAADADATTTDADAAA!!!",  the sound  of a Cavalry Bugle Horn blasting out, CHARGE!!
Needless to say, you COULD hear a fuckin' pin drop. The silence, which lasted for another four seconds, now was replaced with about eight or nine BIG INJUNS voices getting louder, which escalated to one of them saying, "Kimosabe, yes you with the yellow hair, you have less than ten fuckin' seconds to get out of here alive ", and a split-second later, about 35 Indians……Sopranos, Bass, and Tenor voices, in beautiful three-part harmony, yell out, "DAADAADADATTTDADAAA!!!".
Needless to say, Lester did a Gold Medal Olympic performance dashing to the door. The photo for the Meme is one taken last night from my front yard. I said, "So beautiful, maybe I'll paint that (thinking oil painting). Hey! I know. I'll add a little Indian on a horse….Hey! I know! I'll add some Calvary Soldiers chasing the Indian!". To which my roomie simply made the Bugle sound for "Charge"…."DAADAADADATTTDADAAA!!!". So, not an oil painting, a Meme. to go along with the "Routine". hahahahahaha
Postscript: Camera pans in on Chester the "Cable Guy" just before he sprints for the door, as he slams down the full glass of beer that's sitting in front of him on the bar. Narrator: "When you're in a hurry, and you HAVE to leave, make sure that beer your slamming down is a COORS LIGHT".
Postscript 2: If you read between the lines, this is a wonderfully positive commercial (and message) for the "Originals" as I prefer to call the descendants of all the various peoples who were here long before the "White Man" ever stepped off of a boat onto land here in America". If I wanted to piss off the "White, Rednecks", I would have made Chester "The Cable Guy" character some fat dude with his butt-crack showing. If I wanted to piss off the LBJYQ or whatever they are called, I would have written Chester as a sort of flamer. Instead, Chester "The Cable Guy" is just an average white dude, probably in his mid to late thirties. The fact that his cellphone plays the Cavalry Trumpet call when it rings is just his ring regardless of any intentional racism because it pictorially represents the fact that a very large percentage of the population in "America" has been indoctrinated for generations into a false sense of superiority over many races, not just the "Originals". The ending is was it is, the triumph over all of our wrongly applied philosophies, ideas, and habits over the past 400 years or so.
Peace & Abide, La paz y la morada, السلام والالتزام , שלום ושמירה, Paix et Demeure, Խաղաղությունը եւ մնալը, Мир и пребывание,, 平和と遵守, 和平與恪守, Aştî û Abad, صلح و عبید, Fred och Abide, Kapayapaan at Patuloy, Frieden und Bleiben, Mir i Ostanite, शांति और निवास, Hòa bình và ở lại, Мир и Абиде, שלום און בלייַבן, สันติภาพและการปฏิบัติ, Mir in bivanje,
Yadhum oore yaavarum kelir, "The World Is One Family"

Dr. T. C. Saxe, DD, RSISHE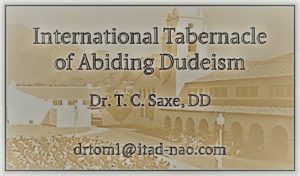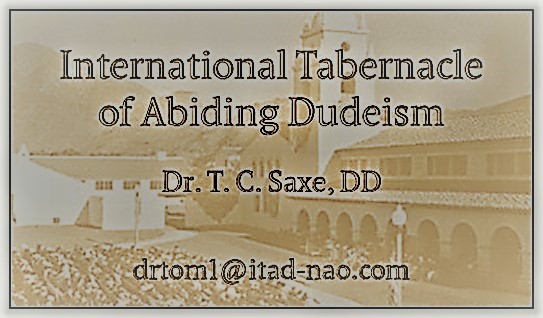 Here's a new website: https://swordsintoplowshares.net/
For those who have been keeping up with my progress with "The Dead Armadillo" story, here's my latest
DeadArmadilloInManuscriptFormat051021
Here's a few Social Media links for sharing, thanks:
This website is not filled with a bunch of "Click-On" ads for the latest in "Toothbrushes" "Fashion" or "Free trips to wherever" generating millions of pesos in income. If you do decide to donate a few Pesos because you enjoy reading my essays, that's awesome, and I sincerely thank you.
Send Dr. Saxe a comment using the form below: