It was 1972, after a few years in San Pedro, California, and having studied "Voice" privately with a renowned Vocal Coach/ Voice Teacher, I ended up with a scholarship in "Voice" to Juilliard in New York City.
On my way to NYC, driving across the states from California, I stopped to visit a few friends in Nashville. My weekend visit turned into a two-year stay, blowing off NYC and the scholarship. The attraction for me was 50% music-related and 50% a beautiful young woman who I worked with at Buckhorn Music on 17th Avenue "Music Row" in Nashville, as it is still called today.
I was so fortunate at that time, to work for Marijohn Wilkin, the owner of Buckhorn, and known in Nashville as the "Den Mother of Music Row," Marijohn's publishing house (literally a house on 17th Avenue), was the very first music publisher for Kris Kristofferson.
By the time I started working there (as a GO-FER, (go for this, go for that), Kris had already moved on from Buckhorn Music and Marijohn, a few blocks down the street to Monument Records, and started publishing his own music under the name Combine Music.
Now, I must "pick a small bone" here with Kris or whomever wrote his Wikipedia page. There is no mention of Buckhorn Music or Marijohn in the entire biography, in spite of the fact that she co-wrote some of his earliest, and most famous, money-grubbing songs of all time.
It was common practice in those days for an owner of a publishing company, in this case, Marijohn Wilkin, to be listed as a co-writer of a song writer's work, even if a publisher had absolutely nothing to do with writing the song or songs in question. I suspect that this was the case, i.e., that contractually, Kris and Marijohn had an agreement like that, that eliminated her name as co-writer upon her death (or perhaps before) because after her death in 2006, her name was removed from the sheet music and all other references/attribution of "Song Writer" and "Publisher".
Makes sense that Kris would take her 50% of the "writers" royalties, AND ALL, 100%, of the "publisher's" royalties, after some period of time, or for sure after her death. The issue that I have, is that in his Wikipedia article, he coulda/shoulda given some sort of acknowledgement to Marijohn, because she WAS very instrumental in helping him get his start in Nashville, and assisting him in the early stages of his career.
Here's a quote from Marijohn's Wikipedia article: "Johnny Duncan and Ed Bruce were among the many songwriters she helped get a foothold in the music business. Kris Kristofferson was in the army with one of her distant cousins, so he sent some of his work to her at Buckhorn, her publishing company. She became the first to publish his songs, notably "For the good times". In 1970, it became a massive pop and country hit for Ray Price. Wilkin is credited for the discovery of Kristofferson and being the first person to give him work as a legitimate songwriter".
One of my "Go-Fer" jobs at Buckhorn was opening the mail, and going to the bank with the weekly deposits. The song "For the Good Times" by far, was the biggest bread-winner for her as co-writer, and also for Buckhorn Music, which separate from her co-writer monies, received 100% of the monies for being the "Publisher". I remember the huge checks just for that one song, she made millions of dollars as co-writer AND publisher (there were many other songs of his that she published for Kris as well). Her 57-foot yacht on the Cumberland River was named, FOR THE GOOD TIMES, which I thought was a very clever name for a boat.
Getting back to that OTHER attraction for me, love, or should I say sex. Our front-end receptionist  at Buckhorn, Sally, was a beautiful young blonde about three or four years older than I. We worked well together, and had a great relationship, which turned sexual after a few months. Maybe she was lonely, or maybe she just enjoyed the companionship of a slightly younger, Hippie-looking dude, like myself.
Sally's husband was the Tour-Bus driver for a well-established female Country-Western artist whose last name would be be an "expletive-deleted" if you replaced the first letter of her last name with "F", so whenever this big star was on tour within a reasonable driving distance of Nashville, Sally's husband, Andy, was also on tour with her, and away from home.
One Saturday night while this popular entertainer (and her tour bus + Andy) was in Atlanta at some concert, Sally and I had been out drinking and dancing, and we decided to continue the partyin' at her home out in Hendersonville, a small town Northeast of Nashville.
Okay, here's where the story gets interesting. It wasn't exactly "Coitus Interruptus", I call it, "Rubber Ducky Bubble-Bath Interruptus" because we hadn't quite arrived at the "Coitus" part yet, because we had only been in the Jacuzzi Bathtub filled with puffy mountains of Rose-Scented bubbles, naked, for about ten minutes.
The master bathroom, with a large Jacuzzi bathtub had a bay window which faced the front of their house and the driveway, which was at least a half mile long, winding road, up hill to the south front of their beautiful ranch-style home on twenty acres.
All of a sudden, vehicle headlights of what was quite apparent to both of us, was Andy and the tour bus turning off the main road and onto their driveway, heading up the hill. Sally says, "Ohhhhh SHIT! Andy's home two days early, you better get out of here, quick".
Shit! I thought. How would we know that Andy's employer, the famous entertainer, had a last-minute change of plans, and instead of coming back as scheduled to Nashville, and taking a flight from there, she decided to take a flight from Atlanta to Los Angeles for an appearance on a talk show, (as I found out from Sally a few days later), so, Andy was able to take off from Atlanta two days early, which Sally was unaware of at that moment that we were engaged in a little fore-play with the huge pile of soapy fufu bubbles in the tub when we saw the headlights.
In a micro-second response, I jumped out of the bathtub, ran through the bedroom, grabbed my shoes, socks, and clothes, put on my fedora, ran through the living room into the kitchen, and ran out the back door into the woods, barefooted.
Safely out of sight in the woods, I watched the Tanya Tucker Tour Bus, and Andy, pull up to the house as I put on my underwear, pants, shirt, socks and shoes in the woods. Lucky for me, Sally had driven that night, and my van was parked down at the Walk Right Inn where we had been drinking, dancing, and shooting pool earlier that evening.
Unlucky I guess is that it was late enough, that by time I made my way to the main road, I had to walk two miles back to the bar because there wasn't any traffic to speak of. One vehicle went zooming by me so fast I don't think the driver even saw me standing there at 3 o'clock in the morning with my thumb stuck out, trying to hitch a ride.
Needless to say, that was a close call for me, as Andy, whom I had met a few times, was a big dude in his late thirties, muscle-bound Marlboro-Cowboy type that certainly would have kicked my ass or worse, had he seen me driving down his driveway in my 1967 VW Van painted "American Flag" red white and blue, with a big Peace sign and painted flowers and shit. In other words, Andy knew what my van looked like, and I'm sure he would have at least been curious as to why I was at his house at 2 o'clock in the morning.
Sally and I had a mutual thing going for another six months, and I just never went to her house again after that close encounter of the worse kind. In retrospect, I sometimes look back and wonder, sure, she was lonely, Andy was always on the road, especially in the Summer, so I can understand why Sally enjoyed my company. I had also wondered at times why she didn't just go with them on tour. Sally did answer that one time, saying that she was told that there wasn't room for another woman on the bus, plus she really did enjoy her job at Buckhorn. Makes sense.
I also wondered but never asked her, if that night that we were in her fufu bubble-filled bathtub, if in some freaky way, she knew that Andy was coming home that night, early morning really, and that she perhaps got off on the excitement and adrenaline rush, seeing the bus turn off the main highway, and me, jumping out of the tub and barely escaping with my clothes and my life.
Six months later, she quit Buckhorn as she was pregnant and both her and Andy had decided that she was not going to work anymore. I never did see her again, although we did talk once in a while on the phone after she quit. To this day I often wonder who's sperm was guilty, and who's kid that little baby girl really was, Andy's, or mine. I moved back to Los Angeles about six months later, and Sally and I just lost touch with each other. She was fun while it lasted.
Kristofferson's song, "For the Good Times", has always had a special meaning for me, and one that I always do at Karaoke. I have no regrets about blowing off Juilliard. A few years later, I was attending Harbor Junior College, and privately teaching "Voice" to some of the college choir's fellow students, and years later I was honored to sing the National Anthem at Dodger Stadium. No regrets at all. Besides, I wasn't too thrilled about Opera, and "Classical" music, which is what I would have studied at Julliard. I had many more experiences while living in Nashville that are interesting, that I will probably add when I add this to my book, "The Dead Armadillo".
For those who have been keeping up with my progress with "The Dead Armadillo" story, here's my latest:
DeadArmadilloInManuscriptFormat022721A
Peace & Abide, La paz y la morada, السلام والالتزام , שלום ושמירה, Paix et Demeure, Խաղաղությունը եւ մնալը, Мир и пребывание,, 平和と遵守, 和平與恪守, Aştî û Abad, صلح و عبید, Fred och Abide, Kapayapaan at Patuloy, Frieden und Bleiben, Mir i Ostanite, शांति और निवास, Hòa bình và ở lại, Мир и Абиде, שלום און בלייַבן, สันติภาพและการปฏิบัติ, Mir in bivanje,
Yadhum oore yaavarum kelir, "The World Is One Family"

Dr. T. C. Saxe, DD, RSISHE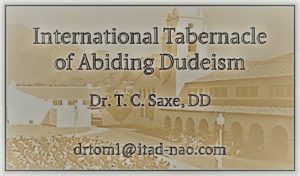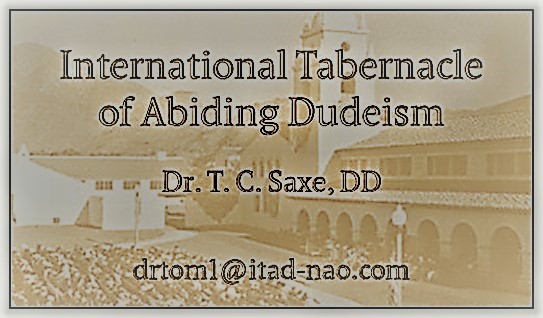 Click on a link here to share:   
This website is not filled with a bunch of "Click-On" ads for the latest in "Toothbrushes" "Fashion" or "Free trips to wherever" generating millions of pesos in income. If you do decide to donate a few Pesos because you enjoy reading my essays, that's awesome, and I sincerely thank you.
Send Dr. Saxe a comment using the form below: