What do you say to the cute Redhead standing over by the piano? The next time you start a conversation with a pretty woman at a party, you introduce yourself, "Hi, I'm Dr. Saxe". "No, not a doctor, doctor". "I'm a Research Biochemist at UCLA School of Medicine". To assure her that you are a decent human being, you say, "We don't experiment with live animals, that's a beautiful dress you have on'! "We ARE looking for some test volunteers". "Yes, you would be a perfect participant". "Yes, you would be compensated". "The University will pay you $100 for every single test that's performed". "No, there's no penetration or pain". "What I mean by no penetration, is that there are no needles, or penetration of your skin by any other means". She says, "You want a pound of my what? My "Pubic Hair?!! What makes you think my bush weighs a pound?! I might be trimmed or bald for all you know! I actually have a jungle down there. I've never shaved my armpits either". If she hasn't walked away, go on to say, "Our research involves testing different strains of cannabis combined with different substances, both plant and animal based". "Yes, cucumbers, carrots, used motor oil, thighbone of a rabid squirrel, we are experimenting with thousands of different substances". "It was time for Female Pubic Hair to be tested and we had none, so here I am, at Andy's party" "What color? Black, Brunette, Blonde, all types and colors really, but we are especially seeking Red Pubic Hair". "How do we get our samples? Well, it's sort of hands on research". "No, that's not what I am inferring. you shave yourself, and I'll behave myself". (Wink Wink). "By hands on I mean we don't use machines to do the inhaling of our Cannabis-Substance-Mixed Compounds". "So far, the only categories of additive that seems to enhance the cannabis, are other drugs". "When we find the right pubic hair, we will try to chemically duplicate it". If my theories are correct, "Red Hair" from a young adult like yourself, with a lot of freckles, will be the winner". "Rarity, that's the key". "It's long, hard work. With over a hundred different strains of cannabis to test with each pubic hair sample, we are committed to the quest and confident in our commitment". "Where you ask? I have a laboratory in my great little Beach Pad out in Malibu, (as you give her your card) The address is on my card". "Time? 10:30 tomorrow morning. Yes, we provide the shaving equipment". "By the way, can you come dressed in one of those Hooters Waitress Outfits?"
I sincerely hope you enjoyed my little bit of "Comic Relief"
Peace & Abide, La paz y la morada, السلام والالتزام , שלום ושמירה, Paix et Demeure, Խաղաղությունը եւ մնալը, Мир и пребывание,, 平和と遵守, 和平與恪守, Aştî û Abad, صلح و عبید, Fred och Abide, Kapayapaan at Patuloy, Frieden und Bleiben, Mir i Ostanite, शांति और निवास, Hòa bình và ở lại, Мир и Абиде, שלום און בלייַבן, สันติภาพและการปฏิบัติ, Mir in bivanje,

Dr. T. C. Saxe, DD, RSISHE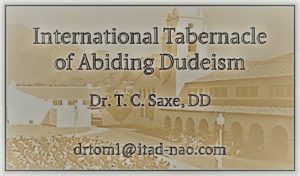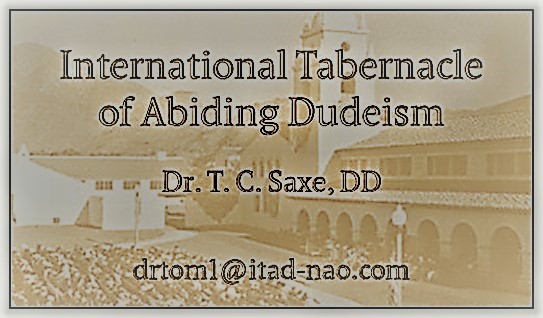 For those of you that have enjoyed reading my posts and pages, and would like to make a small donation in support of my writing efforts, I have now set up a PayPal account for you to contribute $1 or so, or you can send some homemade Venison Jerky or Reese's Peanut Butter Cups , your donation is 100% tax deductible. The preceding request for donations has always been my half-hearted attempt to make a little money from my writing. A few friends/relatives HAVE sent small donations, I even received some really good Venison Jerky one time from my Cousin Barry. No Reese's Peanut Butter Cups yet however. I now add that IF you are like-minded and in agreement with this post, please donate to the cause. The monies will be used for things like hiring a professional web designer for the itad-nao website, and related needs.
All we need is ONE filthy-rich donor who doesn't have his/her head stuck up their ass to fund the itad-nao website, several "Brick & Mortar" locations around the globe, and about 1,000 or so of those para-military dudes. Thank you very much.
Click on a link here to share: