I laughed when I first saw this Meme (because I wish it was true), even though I'm an Old White Dude. I am sharing this Meme with you because I also felt compelled to share the following statement.
I believe that the atrocities that were beset upon the "Originals" (the terminology that I prefer to use), has always given me pause to think. Thinking first of all, that although it was our "white" ancestors that committed horrendous, barbaric acts……atrocities against the "Originals". At one time in our "proud" (tongue in cheek) American history, the U. S. Government paid $5 for "Originals" scalps or heads. Most would think that there isn't much we can do about it now, except allow them open up more "Indian Casinos".
There is more we CAN do. How about starting with the poorest tribes, like the Navajo and Hopi "Originals" especially in and near Keams Canyon. Instead of an "Indian Casino", (there's less than 400 there), I suggest we give each man, woman and child, $50 Million dollars each, to do with as they please. It's not much. Then go on to the rest of the poorest tribes, like at Pine Ridge, home of the Lakota "Originals", one by one, doing the same thing. There are at least ten other "Original Nations" that are living below the poverty level.
You can call it "Reparations" if you so desire. Instead of sending Billions of our tax $$ to the zionists to assist them in their apartheid actions against the Palestinian "Originals", start right here in "America".
P.S. I have been to Keams Canyon, so I have a pretty good idea what I'm talking about, and one of the many reasons why I have a love for ALL "Originals", EVERYWHERE. Look at what is currently happening to the "Originals" right now in the jungles of Brazil.
For my faithful readers that are aware that I'm finally working on "The Dead Armadillo" story, like say, a Producer, or a Director, or a Screenwriter or someone or a company that desires to option my novel, you can contact me at any time, night or day. If you are a one of those faithful readers that wish to read and follow my progress as I work on this novel, I will be posting updates as a PDF file on every new post on this website/blog. Here's the latest of "The Dead Armadillo"
TheDeadArmadilloManuscript101019
Peace & Abide, La paz y la morada, السلام والالتزام , שלום ושמירה, Paix et Demeure, Խաղաղությունը եւ մնալը, Мир и пребывание,, 平和と遵守, 和平與恪守, Aştî û Abad, صلح و عبید, Fred och Abide, Kapayapaan at Patuloy, Frieden und Bleiben, Mir i Ostanite, शांति और निवास, Hòa bình và ở lại, Мир и Абиде, שלום און בלייַבן, สันติภาพและการปฏิบัติ, Mir in bivanje,

Dr. T. C. Saxe, DD, RSISHE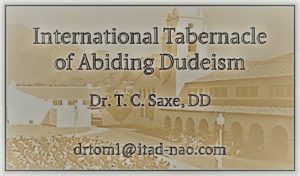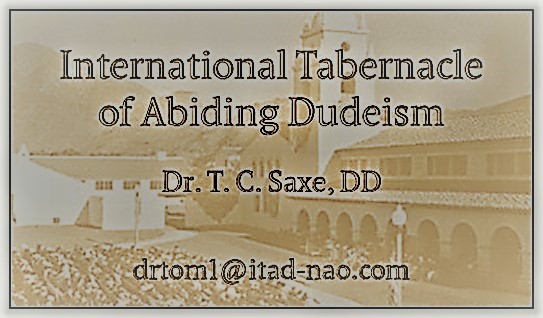 For those of you that have enjoyed reading my posts and pages, and would like to make a small donation in support of my writing efforts, I have now set up a PayPal account for you to contribute $1 or so, or you can send some homemade Venison Jerky or Reese's Peanut Butter Cups , your donation is 100% tax deductible. The preceding request for donations has always been my half-hearted attempt to make a little money from my writing. A few friends/relatives HAVE sent small donations, I even received some really good Venison Jerky one time from my Cousin Barry. No Reese's Peanut Butter Cups yet however. I now add that IF you are like-minded and in agreement with this post, please donate to the cause. The monies will be used for things like hiring a professional web designer for the itad-nao website, and related needs.
All we need is ONE filthy-rich donor who doesn't have his/her head stuck up their ass to fund the itad-nao website, several "Brick & Mortar" locations around the globe, and about 1,000 or so of those para-military dudes. Thank you very much.
Click on a link here to share: