This was originally published on July 12th 2019, updated October 9th, 2020.
It is comforting, and a feeling of gratification that I have lived long enough to not only witness, but feel a small part of this "Great Awakening" portion of our evolution as a species. It has taken decades, with the advent of the age of technology, computers, the internet, and social media, for ordinary people with extraordinary common sense to begin to wake up to this "New Age", which IS part of the beginning, i.e., "The Dawn of the Age of Aquarius". We have been in the "Doorway", walking across the threshold from the "Age of Pisces" which was the age of "Religions", into this new age called "Aquarius", an age of technology,  for perhaps 100 years or so, and I believe that we will still be crossing over the threshold for at least another two hundred years, i.e., we don't get there overnight, it takes time.
God is NOT dead. News Flash! He just never existed in the first place, and people are waking up and recognizing that. In place of religion, a new sensibility is emerging, watering the flowers on the graves of "Religion" in their own minds and hearts. This new awareness really isn't new, it's been there all along. It's just more enhanced and "Shared" because of technology.
Along with mankind's insanely archaic religiosity, what is dying a slow death is everything related to it; Wars, Human Suffering, and so many other negative attributes that our species has been a slave to for thousands of years. To be just a small part of this significant change/process is humbling and reassuring to me.
On one hand, it certainly is pathetic how the so-called modern day "christians" are reacting to the world around them. How can one not be appalled by the recent FB post wherein a so-called "pastor" said, "Immigrant detention centers are good for kids because they can still have church services". Or how can a normal human being who claims to be a Christian be OK with, justify, and be a part of the apartheid treatment of the Palestinian people? Oh, yeah, I forgot, it's all part of THEIR plan according to "Bible Prophecies". Guess what! Jesus is not coming back.
The "Light of Aquarius" has begun to shine brighter and brighter on the malignity with our species that has been there all along, just look at the news. Epstein? He has lived out his usefulness to the Mossad and it won't surprise me if he conveniently and covertly dies of "Natural Causes". If the headlines read, "Epstein found hanging in his cell with a baseball bat stuck up his ass", it won't be suicide, it'll be death by "Bubba". If it REALLY appears to be an unfortunate death due to a "Heart Attack, that will be one of his elite clients hiring a professional "Hit-man". If he mysteriously disappears, along with his money, he will be living out the remainder of his life in the Zionist s so-called State of Israel. Speaking of the The Middle East? Shit's going to start happening that the zionists are not going to be happy with. Update 10/09/20: Epstein IS either dead now, or one a beach somewhere.
On the other hand, our species HAS been in the early stages of a great awakening as we evolve. Religions of ALL kinds and types are slowly dying, some religions will take a little longer to become just a footnote in our history as a species, but for sure, we are evolving into a different, more honest and humane species.
One of the first to go? Christianity and especially the evangelical zionist christians. Along with them, hand in hand, we will also see the zionists who will be flushed down the cesspool of mankind.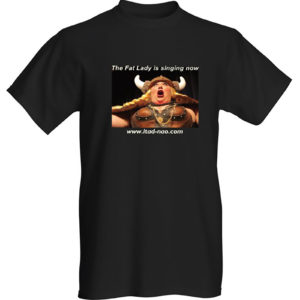 "It's not over until the Fat Lady sings? Guess what folks, the Fat Lady is singing now" Sorry the image of the T-Shirt is so pixelated. The actual image and verbiage on the T-Shirt is sharp, in case you are interested in one.
More about this "Great Awakening", feel free to comment on this post, and if you have something you feel adds to this, PM me and I will add your thoughts to the post on this website and on the itad website.
P. S.  Being that I am an optimist, I believe that I will live long enough to one day hear my grandson say to me, "Grandpa, please tell me again what war and killing people was all about".  I believe we will find peace eventually. If you agree to all the wars, and you are a shareholder in several companies that manufacture weapons of war, it is beyond stupid, it's insane, give yourself a Lobotomy and divest yourself of all the Military/Industrial Complex shares in your stock portfolio. I have a new website which is dedicated to re-training people that are involved in the manufacture of weapons of war. You can visit the new website here:
For those who have been keeping up with my progress with "The Dead Armadillo" story, here's my latest:
TheDeadArmadilloManuscript062120
Thank you for reading this.
Peace & Abide, La paz y la morada, السلام والالتزام , שלום ושמירה, Paix et Demeure, Խաղաղությունը եւ մնալը, Мир и пребывание,, 平和と遵守, 和平與恪守, Aştî û Abad, صلح و عبید, Fred och Abide, Kapayapaan at Patuloy, Frieden und Bleiben, Mir i Ostanite, शांति और निवास, Hòa bình và ở lại, Мир и Абиде, שלום און בלייַבן, สันติภาพและการปฏิบัติ, Mir in bivanje,
Yadhum oore yaavarum kelir, "The World Is One Family"

Dr. T. C. Saxe, DD, RSISHE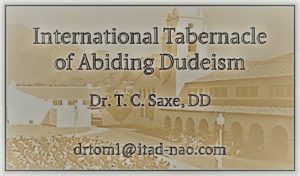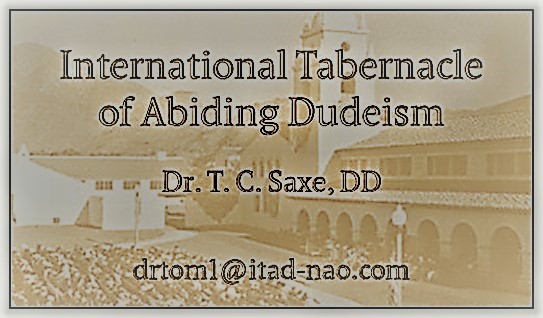 Click on a link here to share:   
This website is not filled with a bunch of "Click-On" ads for the latest in "Toothbrushes" "Fashion" or "Free trips to wherever" generating millions of pesos in income. If you do decide to donate a few Pesos because you enjoy reading my essays, that's awesome, and I sincerely thank you.
Send Dr. Saxe a comment using the form below: