Here's another re-posting for Veterans Day.  Too many of our young men and women have died, come home from unjust wars for OIL and other really asinine reasons, maimed for life physically and mentally. I'm not "Celebrating" Veterans Day (USN Never Again, 1965-1969). So many of our sons & daughters have died by their own hand, in the past fifty years of insane wars that they never should have been a part of (it's called Suicide). The numbers, compared to the actual number who came home in caskets, is staggering. Google the numbers yourself. This is just our "Brave" soldiers, so, let's also not forget the millions of casualties and carnage our brave soldiers left behind.
All the deaths and destruction, in the name of Freedom and Democracy, and OiI/Money . It can't get more insane then that folks. The young people that did take their own life, did so after suffering from mental issues like PTSD, physical AND mental issues, like missing arms and legs, but mostly, they were missing the ability to function as a human being because of the mental issues they struggled with.
You shouldn't be surprised how mentally and emotionally disturbed your son or daughter has become, (or was before their suicide) when they are trained to kill people, and use that brainwashing to end the life of another human being, be it a so-called "enemy combatant" or an innocent man, woman, or child that just got in the way. How sad for the families they left behind. Some not only offed themselves, but they murdered others as well, like their entire families before killing themselves.
Our Veterans Administration (VA) and the VA Medical system has failed those young people, and that's one of the primary reasons so many have, and will continue to, give up. They could not get the proper treatment, so they pulled the trigger, found a strong piece of rope, slit their wrists in a bathtub, and so many other ways of taking their own lives.
The insanity of producing a system in our society that basically brainwashes our youth into believing that they honor their families and their country by entering into the military service needs to be changed. Today's youth are slowly waking up to the fact that WAR, and taking the life of another human being is insanity.
So, you ask, what can we do as a species to make a difference and a make a change that will stop this madness? End the wars. Stop investing in the Military/Industrial Complex. If you already have stocks in companies that manufacture ANYTHING used in wars, such as military aircraft, missiles, bombs, and all other items used to kill people, sell those stocks, re-invest in Cannabis stocks, or anything else that is not related to death and destruction.
Raise your children to love life, and to love all life in general. Teach them the ways of love and peace, not war. Give them all the love and support they need to grow and become part of society, not food for maggots. By teaching them something so basic as the Golden Rule, your sons and daughters, your grandsons and granddaughters, will still be alive to bury you or to sprinkle your ashes somewhere, someday, when YOU die.
I have written much on this subject and will continue to do so until I take my final breath. I believe with all my heart, that my six-year-old grandson will NEVER have to go to.
As I have said many times before, our species is coming to a fork in the road. I believe that as a species, we WILL take the "Right" road/path and enter into a new age. Just for the Halibut, let's call it the Age of Aquarius.
In conclusion, try to muster up some "Common Sense", and use that common sense, (looking at the past few thousand years) to make the right choices in life. Making the right choice will set the stage for our species to enter into an age of Peace, Love, and true happiness in life. This means getting rid of the "old" and nurturing the "new". What a concept. Think of a world living the Golden Rule as so many wise men and women have been preaching all these years.
All of the great teachers and prophets in history have used the Golden Rule as their basic philosophy/teachings. Wake up your Good Karma, shake off your Bad Karma. End of story and the beginning of a new age.
If you agree, contact me. Let's talk. Let's organize. Let's stop being like a "Single Fly, Farting in the Wind". Join ITAD-NAO. Spread the word. Get involved. For sure let's stop the insanity. You can choose to continue on the road you are on, or join myself and many others who have already joined. Again, the website is a tool, not a religion, and it is www.itad-nao.com  Feel free to "Private Message" me for further details/explanations, and discussions  that will answer all of your questions.
Thank you for reading this.
P. S.  Being that I am an optimist, I believe that I will live long enough to one day hear my grandson say to me, "Grandpa, please tell me again what war and killing people was all about".  I believe we will find peace eventually if we can accomplish a miracle or two, or three. If you agree to all the wars, and you are a shareholder in several companies that manufacture weapons of war, it is beyond stupid, it's insane, give yourself a Lobotomy. If you are a Zebraist, or support Zebraism, your just due is coming very soon.
We sometimes think it is hopeless and against all odds, but hey, we are part of the 99% against the 1% that currently have absolute control. We can and shall overcome the odds, but only if we truly ORGANIZE. Otherwise, we are all just as a "Single Fly, Farting in the Wind". Some thoughts on possible miracles/solutions can be found on the following GOFUNDME page. If you have questions, suggestions, comments, etcetera, again, please feel free to contact me. You can contact me by farcecrap PM, send me an email or fill out the contact form below
. Thank you.
https://www.gofundme.com/f/like-a-single-fly-farting-in-the-wind
For my faithful readers that are aware that I'm finally working on "The Dead Armadillo" story, like say, a Producer, or a Director, or a Screenwriter or someone or a company that desires to option my novel, you can contact me at any time, night or day. If you are a one of those faithful readers that wish to read and follow my progress as I work on this novel, I will be posting updates as a PDF file on every new post on this website/blog. Here's the latest of "The Dead Armadillo"
TheDeadArmadilloManuscript110119
For those of you that would care to get involved with me on this project, as I intend to hire a professional screenwriter at some point, and produce a feature film, I have recently been approved for a KICKSTARTER campaign where you can contribute. Here is the link to the KICKSTARTER campaign.
Peace & Abide, La paz y la morada, السلام والالتزام , שלום ושמירה, Paix et Demeure, Խաղաղությունը եւ մնալը, Мир и пребывание,, 平和と遵守, 和平與恪守, Aştî û Abad, صلح و عبید, Fred och Abide, Kapayapaan at Patuloy, Frieden und Bleiben, Mir i Ostanite, शांति और निवास, Hòa bình và ở lại, Мир и Абиде, שלום און בלייַבן, สันติภาพและการปฏิบัติ, Mir in bivanje,

Dr. T. C. Saxe, DD, RSISHE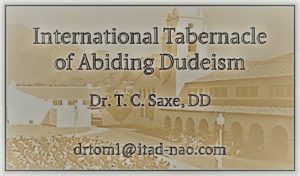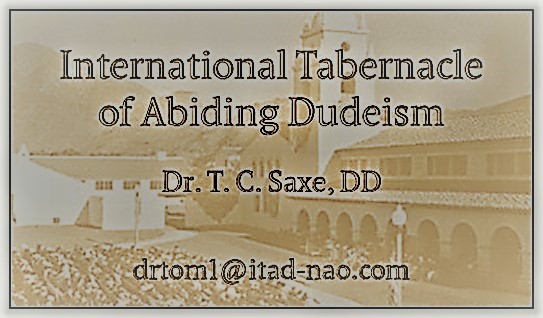 Some immediate needs. On a volunteer basis for now, we need a WEBMASTER who can work on the ITAD-NAO website, we need a person skilled in "Crowd-Funding" and "Director of Charitable Giving", we need an attorney to help in the legal matters for ITAD_NAO, including setting us up as a tax-exempt "Church", we need a Certified CPA to insure the financial integrity of the ITAD-NAO organization, we need a "Chief of Security", we need a film-maker, first for YouTube, eventually for larger platforms, plus a few other positions. We believe that somewhere down the road, a Billionaire will step up to the plate and write a check for $50 Million or so, which will turn those volunteer positions into paid positions.
Click on a link here to share:   
Send Dr. Saxe a comment using the form below: