It seems like EVERYTHING and EVERY TIME I post and try to cross-post tonight, FB is "Blocking" me. In addition, one of their notices said I'm in "Jail" until the 29th 0f July (it's the 23rd today).
So tonight, I was able to go back to all of these incidents on the FB Support Inbox Page and keep sending the same "Appeal", over and over and over again, thinking, "They hit me all of the time with those irritating things that sometimes pop up if the FB Algorithm thinks you are a "BOT" because you are going too fast.
That is, you are "Sharing" your post with every "Group" that you belong to (I'm in about 50 groups I think, and many of them related, like the Pro-Palestine Groups that I'm a member of). In my case, I happen to be really really quick at pressing the buttons, clicking my mouse, and "Sharing", hence, why I get those annoying "Pick out all the dead sea scrolls you see in the pictures" test.
The reason of course is that I believe that if you cross-post not only on every group that you belong to, but have multiple groups of your own to cross-post to you are presenting your "Stuff" to a wider audience. In addition to that, I have nine different "Pages" that are also mine that I cross-post to.
There are many Facebook users that do the same thing that I do, and about an equal number of people that do absolutely no cross-posting at all because they are using FB strictly as a communication method with just their circle of "Friends and family.
They don't cross-post to their "Friends" pages obviously, and they're not interested in designing a clever Meme to share with the world.
Why you are asking? Because if it's true that our posts only reach 5% of our "Friends" and who knows the small percentage of the "Public", I have a belief that with the cross-posting method, there is a multiplying factor of sorts. The more you are posted to, the more folks see your stuff. Makes sense to me. Just remember to go slow because the Algorithm will think you're a BOT.
Also, I do have the limit of "Friends" at 5,000, so my 5% = a larger percentage of folks will be seeing my posts.
So, back to the Appealing Procedure. There I was "Appealing" multiple times as fast as I could as I sang, (click on video file now) "I'm going to do this as fast as I can, I'm going to do this as fast as I can, I'm going to do this as fast as I can, FUCK YOU FACEBOOK".
The "Point" of that whole story (with video), and why I used a Hamster running on one of those circular things, never getting anywhere, is because that's how I feel, and probably how the majority of other FB users feel. Like Hamsters, running but never getting anywhere, i.e., wasting our precious time filing those fucking "Appeals".
There still is time for the rescue of our species from zionism, and the nwo elite. Join "The International Tabernacle of Abiding Dudeism" at www.itad-nao.com
For my faithful readers that are aware that I'm finally working on "The Dead Armadillo" story, like say, a Producer, or a Director, or a Screenwriter or someone or a company that desires to option my novel, you can contact me at any time, night or day. If you are a one of those faithful readers that wish to read and follow my progress as I work on this novel, I will be posting updates as a PDF file on every new post on this website/blog. Here's the latest of "The Dead Armadillo"
TheDeadArmadilloManuscript101019
For those of you that would care to get involved with me on this project, as I intend to hire a professional screenwriter at some point, and produce a feature film, I have recently been approved for a KICKSTARTER campaign where you can contribute. Here is the link to the KICKSTARTER campaign.
https://www.kickstarter.com/projects/thedeadarmadillo/the-dead-armadillo
Peace & Abide, La paz y la morada, السلام والالتزام , שלום ושמירה, Paix et Demeure, Խաղաղությունը եւ մնալը, Мир и пребывание, Pace e Abide, 平和と遵守, 和平與恪守, Aştî û Abad, صلح و عبید, Fred och Abide, Kapayapaan at Patuloy, Frieden und Bleiben, Mir i Ostanite, शांति और निवास, Hòa bình và ở lại, Мир и Абиде, שלום און בלייַבן, สันติภาพและการปฏิบัติ, Mir in bivanje

Dr, T. C. Saxe, DD, RSISHE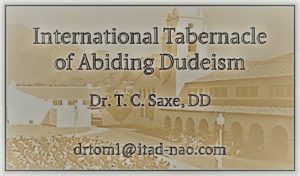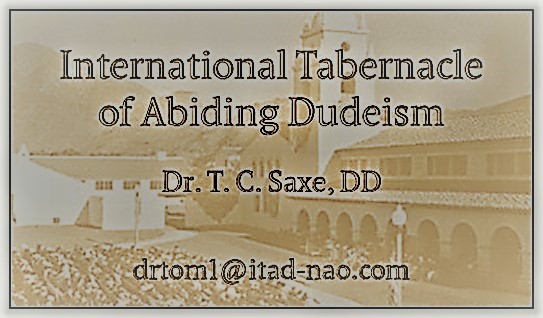 For those of you that have enjoyed reading my posts and pages, and would like to make a small donation in support of my writing efforts, I have now set up a PayPal account for you to contribute $1 or so, or you can send some homemade Venison Jerky or Reese's Peanut Butter Cups , your donation is 100% tax deductible. The preceding request for donations has always been my half-hearted attempt to make a little money from my writing. A few friends/relatives HAVE sent small donations, I even received some really good Venison Jerky one time from my Cousin Barry. No Reese's Peanut Butter Cups yet however. I now add that IF you are like-minded and in agreement with this post, please donate to the cause. The monies will be used for things like hiring a professional web designer for the itad-nao website, and related needs. Thank you very much.
Click on a link here to share: