TEXAS NO LIMIT HOLD-EM
PLEASE FORGIVE ME FOR TYPING ALL IN CAPS. I HAVE REALLY SHITTY VISION, AND IT'S JUST EASIER FOR ME. I WAS INSPIRED TO WRITE THIS TONIGHT BECAUSE OF A PARTICULAR POKER GAME/TABLE I PLAYED IN A COUPLE OF HOURS AGO.
THERE WAS THIS DUDE THAT KEPT GOING ALL IN, MOST OF THE TIME BEFORE THE FLOP, AND I WATCHED HIM LOSE ABOUT $75,000 $5,000 AT A TIME. THEN HE/SHE LEFT THE TABLE.
IT GOT ME TO THINKING ABOUT THE QUALITY OF MY PLAY, WHAT LEVEL AND HOW MANY CHIPS I HAVE WON. I PLAY ON THE FARCECRAP APP, WSOP. SINCE I LIVE IN ARIZONA, I CAN ONLY PLAY WITH THE FREE CHIP, NO REAL MONEY, TABLES.
FOR THOSE OF YOU THAT ARE FAMILIAR WITH, AND PLAY AT THIS APP, MY LEVEL AT THE MOMENT IS ACE IV, (4). I HAVE $800 MILLION CHIPS, A MAJOR PORTION OF WHICH I WON. I WAS UP TO $900 MILLION A FEW NIGHTS AGO, AND HAVE DROPPED A LITTLE.
NOW, HERE ARE MY THOUGHTS, WHAT I HAVE LEARNED OVER ABOUT A YEAR AT PLAYING THIS GAME ONLINE. KEEP IN MIND THAT THE MAJOR DIFFERENCE IN ONLINE POKER AND SITTING AT A REAL FACE TO FACE GAME, IS JUST THAT, YOU CANNOT SEE YOUR OPPONENTS FACES WHEN PLAYING ONLINE. MAYBE SOMEDAY, A PROGRAMMER WILL WRITE A PROGRAM WITH A SKYPE-LIKE FEATURE THAT ALLOWS YOU TO SEE ALL THE PLAYERS FROM CHEST UP? HMMM, HOW ABOUT FULL BODY CAMS, FOR STRIP POKER?
SO IT'S A REAL HANDICAP, NOT BEING ABLE TO SEE TELLS. WHAT YOU CAN SEE HOWEVER, IS HOW A PERSON PLAYS, LIKE IF YOU ARE DEALT A PAIR OF ACES, AND THE FLOP IS 6, 6, ACE, SO YOU SLOW PLAY YOUR TRIP ACES. THE ODDS ARE EXTREMELY SLIM THAT THE OTHER DUDE HAS POCKET SIXES. EVEN IF HE HAS ONE SIX, THAT MEANS YOU HAVE A HAND THAT ANYONE WOULD LIKELY BET ON, RAISE THE POT, OR EXPERIMENT AND SLOW-PLAY THE ACES, AND WAIT FOR THE TURN CARD. I'M NOT SURE WHAT THE ODDS ARE AT THAT POINT, BUT I CAN SAY THAT I HAVE LEGITIMATELY HAD THE WINNING HAND ALL THE WAY THRU THE RIVER AT LEAST 70% OF THE TIME.
I ALSO HAVE HAD THE ABOVE DESCRIBED HAND AND LOST TO MANY HANDS. I HAVE HAD ACES OR HIGH FACE CARDS IN THE HOLE, TURNED, AND RIVERED A FULL HOUSE, AND LOST TO FOUR OF A KIND, LIKE THE TIME A DUDE HAD POCKET SIXES, THAT TRIPPED UP ON THE FLOP, AND GOT HIS FOURTH SIX ON THE RIVER.
THERE ARE A LOT OF HANDS THAT I HAVE LOST, WHEN I THOUGHT MY THREE OF A KIND, OR MY STRAIGHT, OR MY FLUSH OR MY FULL-HOUSE WAS GOOD. THOSE LOSSES ARE WHAT POKER PLAYERS CALL "BAD BEATS" HOW EVER, AND FOR ME, IT'S ABOUT HALF OF MY 30 % LOSSES. THE OTHER HALF OF MY LOSSES ARE JUST PLAIN ERRORS ON MY PART, OR DOWN-RIGHT STUPIDITY.
A VERY SMALL PERCENTAGE OF MY LOSSES HAPPEN WHEN I START TO GET SLEEPY, AND MISS A WINNING HAND BECAUSE I CLOSED MY EYES AND DIDN'T CALL A BET, TIME RAN OUT, AND I AWAKENED TO SEE THAT I HAD JUST LOST THAT HAND 5 SECONDS AGO, THAT I SLOW PLAYED AFTER THE FLOP, CALLED ON THE TURN, EYES CLOSED ALL THE WAY THRU MY WINNING RIVER CARD, WHICH MY OPPONENT RAISED, AND THEN WON BECAUSE MY EYES WERE CLOSED AND TIME RAN OUT.
SUGGESTION: THESE ONLINE GAMES ARE SOFTWARE PROGRAMS, WITH WHAT IS CALLED, ALGORITHMS IN THE PROGRAM. THE CARDS ARE NOT A TRUE SIMULATION OF A REAL DEALER IN A REAL GAME. IF YOU SEE NOTHING BUT CRAPPY CARDS ALL THE TIME, IF YOU HAVE LOST HALF YOUR STACK, LEAVE THE TABLE, GO FIND ANOTHER TABLE. I HAVE BEEN ON TABLES WHERE, AS AN EXAMPLE, STARTED WITH $17MIL ON A $5MIL / $25MIL TABLE AND WHEN NOT CATCHING THE GOOD CARDS, LEFT AFTER FIVE OR SIX HANDS WITH ONLY SPENDING ON THE SMALL AND BIG BLIND, AND LEFT WITH MUCH OF MY CHIPS INTACT. I AM A FETISHLY CAUTIOUS PLAYER.
HAVING SAID ALL THAT, (SORRY FOR RAMBLING ON), HERE ARE A FEW BASICS WHEN PLAYING ONLINE POKER.
NUMBER ONE, AND MOST IMPORTANT, TAKE YOUR TIME, BE PATIENT, DON'T RUSH YOUR PLAY.
NUMBER TWO: LEAVE THE TABLE WHEN IT IS NECESSARY. I WILL LEAVE A TABLE FOR MANY REASONS. SOMETIMES YOU GET TIRED OF THAT ONE IDIOT WHO KEEPS GOING ALL IN BEFORE AND AFTER THE FLOP. TONIGHT, I FOLDED 15 TIMES TO HIS ALL-IN, AND NOT ONCE, WHEN THERE WAS TABLE ACTION AFTER THE DUDES ALL-IN, DID I HAVE A WINNING HAND.
IT WAS AN EXTRAORDINARILY CRAPPY TABLE FOR ME, FOR THE EARLY STAGES BEFORE HE/SHE FINALLY LEFT THE TABLE. AFTER THAT, I PLAYED AT THAT SAME TABLE FOR MORE THAN AN HOUR. WENT FROM $17MIL DOWN TO $12 MIL, UP TO $45 MIL, DOWN TO $ 40 MIL, AND LEFT THE TABLE UP $23 MIL OVER MY ORIGINAL INVESTMENT.
NUMBER THREE: CHANGE UP YOUR PLAY NOW AND THEN. I DON'T DO THIS AS OFTEN AS I SHOULD, BECAUSE PLAYERS THAT KNOW HOW I PLAY GENERALLY LEAVE A TABLE WHEN I FIRST APPEAR. TO DO THIS, TO REALLY CHANGE UP YOUR PLAY, YOU MUST BE WILLING TO BLOW A BUNCH OF CHIPS ON BAD OR ERRATIC PLAY, PURPOSELY. WHEN I SENSE THAT I NEED TO DO THIS AT A TABLE, I WILL MAKE STUPID CALLS AND/OR BETS, THAT IS RIGHT OUT THERE FOR THE PLAYERS TO SEE.
AFTER RUNNING OUT OF CHIPS, I WILL CHIP UP AND REJOIN THE SAME TABLE. SOME OF THE OPPONENTS WILL THINK, "EASY PICKIN IDIOT IS BACK". I'M BACK, BUT THIS TIME WITH $25MIL IN CHIPS, INSTEAD OF $17MIL, LIKE MY SACRIFICIAL INVESTMENT PREVIOUSLY.
ON YOUR COMEBACK, PLAY WITH PATIENCE. YOU WILL WIN A LARGER PERCENTAGE OF THE HANDS YOU DO PLAY AND LOSE FEWER. YOU WILL SEE HANDS THAT YOU DIDN'T PLAY, END UP BEING WINNERS, HAD YOU NOT FOLDED. THIS ESPECIALLY HAPPENS, AS AN EXAMPLE, WHEN I FOLD A 3-9 OFFSUIT AFTER A FLOP OF KING, KING, NINE THEN THE THREE AND NINE COME ON THE TURN AND RIVER, WHICH WOULD HAVE MADE ME A FULL-HOUSE, AGAINST MY OPPONENTS THREE KINGS.
YOUR GAME/PLAY ALSO DEPENDS ON THE TABLE STAKES. IF ALL YOUR OPPONENTS LIMP IN ON A SMALL STAKES TABLE, YOU CAN AFFORD TO TAKE RISKS THAT YOU WOULD NOT TAKE ON A HIGH-STAKES TABLE. I FREQUENTLY PLAY THE $500K – $1 MIL BLINDS WITH MORE CAUTION THEN ON A SMALL BLINDS TABLE. I MAY CALL THE TURN AND RIVER WITH A SMALL PAIR, WHEREAS ON A HIGHER STAKES TABLE I WOULD FOLD HOLDING A LOW PAIR UNLESS A THIRD CARD TO MY POCKET PAIR SHOW UP.
IN CONCLUSION, HAVE FUN, PLAY SMART, BET SMART, BE PATIENT, AND PURPOSELY MIX IT WITH STUPID PLAY EVERY NOW AND THEN. LET ME KNOW IF THESE POINTERS HELP YOU WITH YOUR GAME. REMEMBER IT'S A COMPUTER GAME.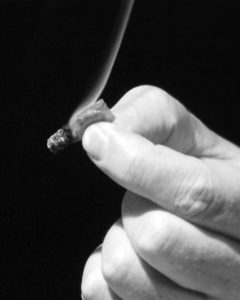 Strain: Grand-Ma'sBellyButtonLint, harvested September 23rd, 2018
For those of you that have enjoyed reading my posts and pages, and would like to make a small donation in support of my writing efforts and intentions, I have now set up a PayPal account for you to contribute $1 or so, or you can send some Cannabis, homemade Venison Jerky or Reese's Peanut Butter Cups , your donation is 100% tax deductible.
Peace & Abide,

Dr. T. C. Saxe, DD