Did you know that leaving the candy in the kitchen on top of the fridge forces you to forget about it for sometimes hours? I have recently started doing this, well, tonight I started.  My prior Modus Operandi was to keep the Reese's Peanut Butter Cups next to me on the couch, facing the TV, along with whatever cookies or other snacks I had.
Me on the left, pile of munchies on my right. Tonight I had placed my three bags of Lindor's  Truffles, Dark Chocolate, Medium Chocolate, and White Chocolate on top of the fridge.  I haven't bought these in a year, they're so expensive, and so good, they usually only last part of one night.
Normally, by this time, had I relocated the chocolate to it's place on the couch when I first got home from the store, it would all be gone. Especially tonight, thanks to this new strain I'm trying tonight.
So, a bit ago, I casually strolled out to the kitchen, not sure what I was hungry for, just had the munchies. Looked up on top of the fridge and thought, "Waddoyaknow!" Chocolate!
Instead of grabbing the bags and transporting them to the couch, I opened each bag methodically, grabbing one piece from the Dark Chocolate bag, one piece from the Medium Chocolate bag, and one piece from the White Chocolate bag, and strolled back to the couch (with a swinging rhythm) because instead of the TV, you've got on some Glenn Miller, "Tuxedo Junction".
Those three pieces of chocolate lasted an hour. With my prior chocolate eating skills, in the past, I have eaten three bags in an hour.
My hearing is extremely acute this morning (1:30am) good strain. Just went out on the patio for a cigar, and I swear, it was like listening to a jungle. I think I could hear the bugs on the ground talking to each other. Not crickets, you can hear them for sure. But I'm not sure if this part of Arizona even HAS crickets because I have been here four years and I'm still waiting to hear that first cricket chirp.
So the bugs I'm listening to are the Arizona desert kind of bug. This wasn't some long playing record playing, like listening to Count Basie right now. I have been listening to this awesome music for three hours. The symphony of sounds I heard for three minutes on my porch were just that.
Every kind of sound that a +55 upscale gated Mobile Home Park could produce. The trees were making swishing sounds (Palm trees swaying in the wind).
Thirty minutes later, back out on the Porch, along with "deafening silence" (an Oxy you Moron), you can't hear a frickin thing. You know you haven't suddenly gone deaf, because you can hear Berlin Booker playing "Oops! My Lady" on the Satellite TV music channel.
The park is so quiet, you think that aliens from Planet Zookmondo have taken all the people, dogs, cats, parrots, goldfish, and all these Arizona bugs I've yet to see. Arizona is fairly bug-less compared to Minnesota in the Spring and Summer.
a few new quotes and a joke:
"From Lousy to Happy in 30 minutes, and she didn't even ask me to wear a condom. How abide is that?" – T. C. Saxe
"I can take whatever Bullshit you fling at my beliefs, just wash your hands after handling your poop" – T. C. Saxe
Driver: "Seriously Officer, I SWEAR, this is NOT Donald Trump sitting next to me with his tiny hand on my cock"
Motorcycle Cop: "Drivers License and Registration please, and please zip up your pants and get out of the car, Mr. Clinton"
We sometimes think it is hopeless and against all odds, but hey, we are part of the 99% against the 1% that currently have absolute control. We can and shall overcome the odds, but only if we truly ORGANIZE. Otherwise, we are all just as a "Single Fly, Farting in the Wind". Some thoughts on possible miracles/solutions can be found on the following GOFUNDME page. If you have questions, suggestions, comments, etcetera, again, please feel free to contact me. You can contact me by farcecrap PM, send me an email or fill out the contact form below.
https://www.gofundme.com/f/like-a-single-fly-farting-in-the-wind
For my faithful readers that are aware that I'm finally working on "The Dead Armadillo" story, like say, a Producer, or a Director, or a Screenwriter or someone or a company that desires to option my novel, you can contact me at any time, night or day. If you are a one of those faithful readers that wish to read and follow my progress as I work on this novel, I will be posting updates as a PDF file on every new post on this website/blog. Here's the latest of "The Dead Armadillo"
TheDeadArmadilloManuscript101019
For those of you that would care to get involved with me on this project, as I intend to hire a professional screenwriter at some point, and produce a feature film, I have recently been approved for a KICKSTARTER campaign where you can contribute. Here is the link to the KICKSTARTER campaign.
Peace & Abide, La paz y la morada, السلام والالتزام , שלום ושמירה, Paix et Demeure, Խաղաղությունը եւ մնալը, Мир и пребывание,, 平和と遵守, 和平與恪守, Aştî û Abad, صلح و عبید, Fred och Abide, Kapayapaan at Patuloy, Frieden und Bleiben, Mir i Ostanite, शांति और निवास, Hòa bình và ở lại, Мир и Абиде, שלום און בלייַבן, สันติภาพและการปฏิบัติ, Mir in bivanje,

Dr. T. C. Saxe, DD, RSISHE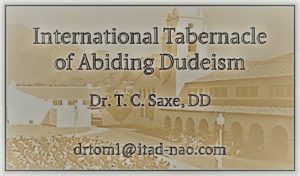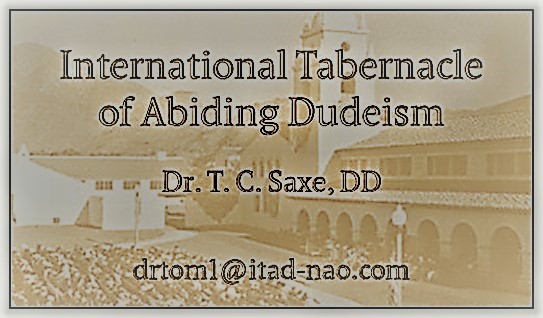 Some immediate needs. On a volunteer basis for now, we need a WEBMASTER who can work on the ITAD-NAO website, we need a person skilled in "Crowd-Funding" and "Director of Charitable Giving", we need an attorney to help in the legal matters for ITAD_NAO, including setting us up as a tax-exempt "Church", we need a Certified CPA to insure the financial integrity of the ITAD-NAO organization, we need a "Chief of Security", we need a film-maker, first for YouTube, eventually for larger platforms, plus a few other positions. We believe that somewhere down the road, a Billionaire will step up to the plate and write a check for $50 Million or so, which will turn those volunteer positions into paid positions.
Click on a link here to share:   
Send Dr. Saxe a comment using the form below: