So, I was texting my son today, that I had finally received my Arizona Medical Marijuana Card in the mail. Texted him just as I was leaving the house to go to the "Pharmacy". I typed in, "Whoopee, I got my card"…………After twelve days, these last few days have been like a kid waiting for Christmas. Came home, took my time.  Reviewed my first purchase of seventeen different varieties of Medical Cannabis, i.e., seventeen grams of "weed". Some to treat Migraine pain, some for my mental condition, some for my Arthritis, and some just to get high.
Put a Dos XX in the freezer. Sat down on the couch, took my handy dandy little Grenco Science "credit card" grinder and ground up a couple of buds. Filled up the ceramic chamber in my Grenco Science Elite Vaporizer, grabbed my beer, and turned it on, turned on my VAP that is. It took about thirty seconds to get to 400 Degrees Fahrenheit.
About fifteen minutes later, sent my first review of "Blue Cheese", harvested February 12, 2016, to my son by text, kind of like a wine review.  I tapped, "A little fruity, a little nutty with a hint of oatmeal", into my cell phone. Five minutes later, picked up my phone, "How about, tap-tap-tap-tap tap-tap-tap, "Zlmmywimmycrackledinkyzissboombah".
Seven point six three nine five two seconds later, after consuming one more beer, some Pepperidge Farm Milano Cookies, and some Cheetos,
I texted, "Tippywippyshnonkledoodlestickitupyourasshole", with a hint of Oatmeal.
Seriously folks, the benefits medically far outweigh the negative and legal hype. Medically speaking, we are so past keeping this as a Schedule 1 drug. Along with Heroin, LSD, Ecstasy and others, Tetrahydrocannabinol (THC, marijuana) is still considered a Schedule 1 drug by the DEA, even though some U.S. states have legalized marijuana for personal, recreational use or for medical use. Cocaine, which is a much worse evil,  is listed as a Schedule II drug.
Ancient records show that humans were toking about the time of the 3rd millennium BC. Worldwide, 240 million people used cannabis last year, both for recreational purposes, and medically. Between the age of 15 and Old Fart, fifty percent of the U. S., population  have tried marijuana in 2015.
Mental condition? Do I have PTSD today? I don't think so. Did I suffer from PTSD-like conditions when I was growing up? Yes, I'm sure of it. As I'm sitting here writing this, I can safely say that medical marijuana has helped me in so many ways that would be considered "positive".  Physically, and Mentally! Check the facts on the medical use.  For me, it helps ease the pain from arthritis and migraines, and super-boosts my creative juices.
Makes me LAUGH, which eases my depression. Had they tried "grass" instead of the "Shock Therapy" on my stepfather, would it have changed his life, and subsequently, changed ours, for the better? Yes, I believe it. Oh, and just like alcohol, don't toke and drive, never.
We sometimes think it is hopeless and against all odds, but hey, we are part of the 99% against the 1% that currently have absolute control. We can and shall overcome the odds, but only if we truly ORGANIZE. Otherwise, we are all just as a "Single Fly, Farting in the Wind". Some thoughts on possible miracles/solutions can be found on the following GOFUNDME page. If you have questions, suggestions, comments, etcetera, again, please feel free to contact me. You can contact me by farcecrap PM, send me an email or fill out the contact form below.
https://www.gofundme.com/f/like-a-single-fly-farting-in-the-wind
For my faithful readers that are aware that I'm finally working on "The Dead Armadillo" story, like say, a Producer, or a Director, or a Screenwriter or someone or a company that desires to option my novel, you can contact me at any time, night or day. If you are a one of those faithful readers that wish to read and follow my progress as I work on this novel, I will be posting updates as a PDF file on every new post on this website/blog. Here's the latest of "The Dead Armadillo"
TheDeadArmadilloManuscript101019
For those of you that would care to get involved with me on this project, as I intend to hire a professional screenwriter at some point, and produce a feature film, I have recently been approved for a KICKSTARTER campaign where you can contribute. Here is the link to the KICKSTARTER campaign.
Peace & Abide, La paz y la morada, السلام والالتزام , שלום ושמירה, Paix et Demeure, Խաղաղությունը եւ մնալը, Мир и пребывание,, 平和と遵守, 和平與恪守, Aştî û Abad, صلح و عبید, Fred och Abide, Kapayapaan at Patuloy, Frieden und Bleiben, Mir i Ostanite, शांति और निवास, Hòa bình và ở lại, Мир и Абиде, שלום און בלייַבן, สันติภาพและการปฏิบัติ, Mir in bivanje,

Dr. T. C. Saxe, DD, RSISHE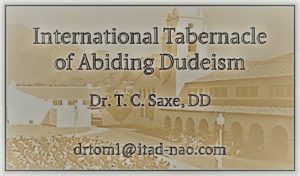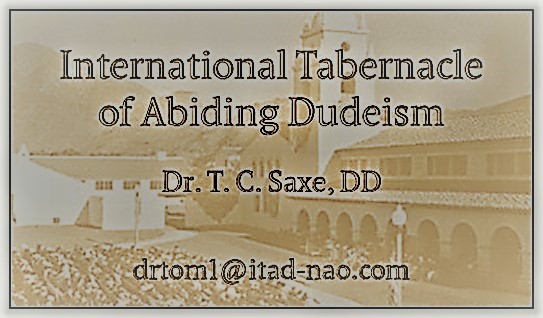 Some immediate needs. On a volunteer basis for now, we need a WEBMASTER who can work on the ITAD-NAO website, we need a person skilled in "Crowd-Funding" and "Director of Charitable Giving", we need an attorney to help in the legal matters for ITAD_NAO, including setting us up as a tax-exempt "Church", we need a Certified CPA to insure the financial integrity of the ITAD-NAO organization, we need a "Chief of Security", we need a film-maker, first for YouTube, eventually for larger platforms, plus a few other positions. We believe that somewhere down the road, a Billionaire will step up to the plate and write a check for $50 Million or so, which will turn those volunteer positions into paid positions.
Click on a link here to share:   
Send Dr. Saxe a comment using the form below: