I MIGHT get some flack from the environmental folks or Plumbers, but I don't care, it's just a comedy routine, spoofing those, "Let's raise somebody from the dead today" kind of hocus-pocus evangelical christians. Not purposely mocking all those bound by their wheelchair.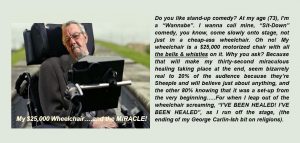 I'm going to try to mimic an "Electronic" sounding voice through the entire routine. SOME people WILL be CONVINCED that I AM really handicapped, and believe that when I suddenly jump out of my wheelchair after "Twitching", "Speaking in Tongues" and the chair going crazy.
Peace & Abide, La paz y la morada, السلام والالتزام , שלום ושמירה, Paix et Demeure, Խաղաղությունը եւ մնալը, Мир и пребывание,, 平和と遵守, 和平與恪守, Aştî û Abad, صلح و عبید, Fred och Abide, Kapayapaan at Patuloy, Frieden und Bleiben, Mir i Ostanite, शांति और निवास, Hòa bình và ở lại, Мир и Абиде, שלום און בלייַבן, สันติภาพและการปฏิบัติ, Mir in bivanje,
Yadhum oore yaavarum kelir, "The World Is One Family"

Dr. T. C. Saxe, DD, RSISHE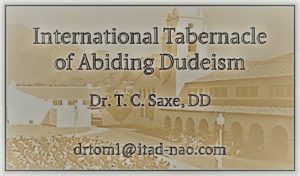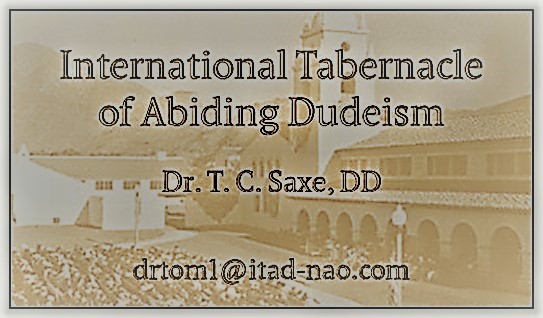 Here's a new website: https://swordsintoplowshares.net/
For those who have been keeping up with my progress with "The Dead Armadillo" story, here's my latest
DeadArmadilloInManuscriptFormat051021
Here's a few Social Media links for sharing, thanks:
This website is not filled with a bunch of "Click-On" ads for the latest in "Toothbrushes" "Fashion" or "Free trips to wherever" generating millions of pesos in income. If you do decide to donate a few Pesos because you enjoy reading my essays, that's awesome, and I sincerely thank you.