Imagine if you will, you are deep in the mountains or perhaps on a lonely stretch of beach somewhere, miles from civilization and/or the nearest house or public restrooms. You and nine of your close friends, boys AND girls, have a nice bonfire going, or campfire if you are up in the mountains somewhere. Everyone is drinking their favorite beer, smoked the ganja, and having a great time.
Just as Billy has finished playing Bob Dylan's "Blowing in the Wind" on his 12-String guitar and beginning the musical/guitar entré to "Hotel California" by the Eagles, you have a growing bubble of gas that has been increasing in size every minute for the past thirty minutes because of that shit-load of Taco Bell burritos and tacos (and Dos XX's) that you have consumed in the past two hours. In the mountains it's easy to just walk into the woods and do your business, and when finished, walk back to the party and the warmth of a campfire.
I digress. So earlier I mentioned that gas bubble in my gut, working its way through my intestines towards my anus. In addition, since I AM an old fart, I have that ever-increasing pressure on my bladder from six cans of Dos XX, which I know from past experience, usually develops into a dire need at some point to run to the bathroom. Oh yeah, slightly stoned, I do recall that I'm not at home or sitting in a restaurant, or at a public beach where they have public restrooms, and I'm not up in the Los Padres National Forest, where the nearest sign of civilization is a state campground a mile away, we are at Rocky Point Beach near Vandenberg Air Force Base and the nearest bathroom is at a gas station two miles away near the freeway.
Now, if you are at a remote beach like I just mentioned, and you have to pee, you basically have to walk far enough away from the bonfire and your friends so that when you whip it out and relive yourself, you can stand with your back facing the bonfire and your friends in order to hide the process of pissing. Depending. Depending on which way the wind is blowing. If, you are standing with your back towards your friends and the ever-growing bonfire, and the 20 mile-an-hour wind is hitting you in the face, you have a problem. You walked the wrong way. No matter how hard you try not to, you do end up pissing all over the front of your pants.
So, there I am standing with my nine friends, right by the wonderful bonfire singing "Hotel California", and I'm finally at a point where I can't hold back that ornery gas bubble. Obviously, I'm thinking, well, nobody will hear it if it's a noisy one, because of the excellent choir of voices singing "Hotel California". Ahhhh, but what if it's a stinky one? Yup, I DO need to walk away, as far as necessary, and definitely with the wind at my back instead of in my face. That way, the smell will continue to evaporate down-wind from the bonfire as my friends continue to sing "Hotel California".
Did I mention that I was an old fart? I didn't get six steps away from the bonfire when that sudden pressure on my bladder had become partners with my tensely-held butt-cheek muscles trying to hold everything at bay, and now my urethra tract is urine-filled, stopping just shy of the tip of my penis. Initially, all I had to do originally was fart. But those six steps had further activated the mechanism of my "bladder sending urine through my system and down to the head of my penis". PLUS, now I'm also having difficulty holding back what has become, the "Mother of all Gas Bubbles" that is knocking on the back door. I could have chopped wood with my anus because my butt-cheeks were so tightly clenched.
Moral of the story. If you are camping in a forest somewhere and the nearest bathroom is a mile away at a public camping area, it's easy to walk fifty feet away from your campfire and hide behind a tree when you have to pee or fart, or both. You can probably get away with taking a shit in the woods as well. The same does NOT hold true if you are having a party around a bonfire at a remote beach somewhere. No matter how far you walk away from your friends and the bonfire, there are no trees to hide behind, so you WILL be noticed. If you need to take a crap, sorry, no tree, you are "Shit out of Luck" so THAT you do have to hold it, or go for a night-time swim (which I have done).
Unfortunately my story did take place at a beach, miles from nowhere. As I was taking my seventh step, knowing that if I let go of my sphincter's tight hold I would piss my pants, and even with a tight sphincter-muscle grip, I was starting to feel a little trickle of piss escaping and running down my right pant leg, and this while still trying to maintain that murderous grip that my butt-cheek muscles still had around my anus in order to prevent me from accidentally/prematurely, farting.
I managed to take an eighth step, and a ninth, and a tenth, with just a slight bit of leakage, but, I still hadn't farted yet. Then, safely 30 steps away instead of 200, I whipped it out, pissed, farted, and wet my pants anyway because I had walked with the wind in my face, not at my back, i.e., the wind was blowing past me towards the bonfire and my friends.
Returning five minutes later to the lovely bonfire and my nine friends singing the last of "Hotel California" (it's a long song), Bob, who I am standing next to says, "You should have walked farther away dude, that was a smelly one. Did a rat crawl up your ass and die? Why didn't you walk south instead of north?" The looks on five of my other friend's faces was priceless.
Peace & Abide, La paz y la morada, السلام والالتزام , שלום ושמירה, Paix et Demeure, Խաղաղությունը եւ մնալը, Мир и пребывание,, 平和と遵守, 和平與恪守, Aştî û Abad, صلح و عبید, Fred och Abide, Kapayapaan at Patuloy, Frieden und Bleiben, Mir i Ostanite, शांति और निवास, Hòa bình và ở lại, Мир и Абиде, שלום און בלייַבן, สันติภาพและการปฏิบัติ, Mir in bivanje,

Dr. T. C. Saxe, DD, RSISHE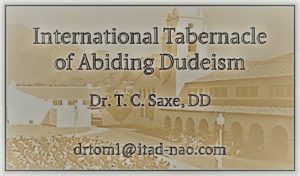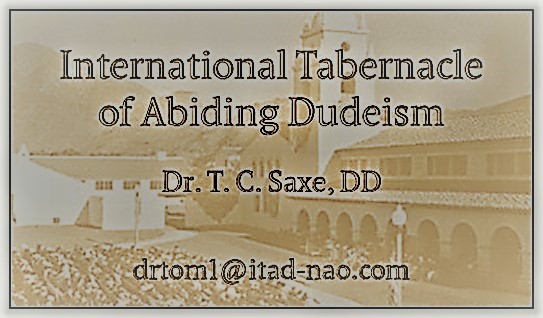 Monetary Donations to The International Tabernacle of Abiding Dudeism, ITAD-NAO are TAX-DEDUCTIBLE, (excluding Reese's Peanut Butter Cups and Home-Made Venison Jerky, that'll be our little secret)
90% of your donations (except for the Reese's Peanut Butter Cups and the Home-Made Venison Jerky) will go directly to verifiable sources that provide humanitarian aid around the world beginning with those legitimate groups that give aid to Palestine and the Palestinian people. Other immediate areas and causes that will receive financial support from ITAD-NAO will be legitimate groups that aid the people of Yemen, and other known areas around the world that are in crisis. In addition, ITAD-NAO will also contribute directly and indirectly to the needs right here in the good ole' USA, like helping the Homeless, and the poorest of the poor achieve better stations in life.
The remaining 10% will be used to maintain the ITAD-NAO Website once it is programmed and fully operational. In its final configuration it will be ENCRYPTED with an encrypted "Communication Suite" for Email, Texting and Video-Chatting. A significant part of the "Communications Suite" will be the ability to include 10 to 15 "Practitioners" (not Parishioners) in Conferencing in groups, and perhaps large convention-type assemblies via closed-circuit TV and the website portal. This is the #1 priority for ITAD-NAO.
If any attorneys happen to read this, we do need your assistance to help with all the legal aspects that we need help with.
If you happen to be a Millionaire or Billionaire and you feel inspired to help us financially, please contact us at your earliest convenience for an in-depth discussion on how we feel our organization can help change our world and it's people in a very significant and positive way.
If you happen to be a regular visitor to this website and you not only enjoy my writing but you are also "Like-Minded" with my concerns and my efforts, please "Click" on the PayPal "Donate" button below. It will take you to the ITAD-NAO PayPal donation form. One dollar, or 25 thousand dollars will be equally appreciated, AND used for ITAD-NAO project, and like was previously mentioned, your donation is 100% Tax-Deductible. (The Reese's Peanut Butter Cups and the Home-made Venison Jerky will be eaten by the ITAD-NAO staff).
Thank you one and all,
Some immediate needs. On a volunteer basis for now, we need a WEBMASTER who can work on the ITAD-NAO website, we need a person skilled in "Crowd-Funding" and/or "Director of Charitable Giving", we need an attorney to help in the legal matters for ITAD_NAO, including setting us up as a tax-exempt "Church", we need a Certified CPA to insure the financial integrity of the ITAD-NAO organization, we need a "Chief of Security", we need a film-maker, first for YouTube, eventually for larger platforms, plus a few other positions. We believe that somewhere down the road, a Billionaire will step up to the plate and write a check for $50 Million or so, which will turn those volunteer positions into paid positions.
For my faithful readers that are aware that I'm finally working on "The Dead Armadillo" story, like say, a Producer, or a Director, or a Screenwriter or someone or a company that desires to option my novel, you can contact me at any time, night or day. If you are a one of those faithful readers that wish to read and follow my progress as I work on this novel, I will be posting updates as a PDF file on every new post on this website/blog. Here's the latest of "The Dead Armadillo"
DeadArmadilloInManuscriptFormat022721A
Click on a link here to share:   
This website is not filled with a bunch of "Click-On" ads for the latest in "Toothbrushes" "Fashion" or "Free trips to wherever" generating millions of pesos in income. We are not seeking your financial support as a primary goal or function of this website, although we know at some point, that we will have the necessary funding to carry out our mission at ITAD-NAO. First and foremost, If you feel this is worthy of your financial support and you do donate, that's great, and we sincerely thank you, but first and foremost we are looking for your involvement with whatever skill-sets you may have to offer. Communicate with us, help us organize, help us plan, and help us execute the plan.  Thank you
Send Dr. Saxe a comment using the form below: