Don't confuse anger with hate. We are all born with the ability to love, or like something or someone, and along with that, we are born with the ability/reaction of "not liking" something or someone, like a baby that is not appreciative of that spoon-full of mushed-up green glob of asparagus that you are trying to shove in his/her mouth, and the mouth is closed so tight, that it would take a stick of dynamite to open.
That's because your darling little Billy does not LIKE it. We say, "Oh, Billy hates Asparagus. But he loves the Bananas & Peaches". Another emotion that we are born with, is the reaction called "Anger". Little Billy's dislike of that Asparagus, quickly turns into anger if the person doing the feeding is persistent in trying to shove that spoon-full of green mushy Asparagus past his tightly-clenched jaw and into his mouth.
His anger is an innocent reaction, upgraded from his dislike because of the unrelenting attempts to get him to open his mouth and eat that Asparagus. The use of the word "hate" in this case is a little erroneous because "Hate" is different. Hate is a learned trait, and not part of our in-born nature to "Like or Dis-like" or to be "angry" at someone or something. Hate, by itself, is a destructive force, and is a learned anomaly that is far removed from disliking or being angry at someone or something.
As an example, you can say that you are upset, resent, or even are angered by how the Palestinian people are treated, but as soon as that emotion of anger morphs into "Hatred", it becomes an un-natural phenomenon that is just as destructive as the "Hatred" that the Palestinian people are being subjected to in the first place.
People kill people because of "Hatred". They may dislike something, or be angry, but it's the "Hate" that turns people into inhumane killers. "Love your enemy" has been said by famous prophets and philosophers. It's not hard to do if you can understand the difference between anger and hatred.
Another example of "Learned Hatred" that is destructive is certain people that have a "Learned" dislike of people whose skin color is different than their own. When we talk about racial dislikes, a person is not born with that kind of  "Dislike", it is a "Learned" trait, and when that "Dislike" turns into anger, and that anger morphs into "Hatred", it is abnormal and destructive, i.e., racial bias, even having a dislike for someone of a different race and color is not an inborn normal part of the human psyche, it is a "Learned" destructive phenomenon, and that "Learned" dislike quickly turns into "Hatred" boosted along by anger.
The same can be said of people that practice a different religion from another group of people, and have a "Learned", dislike for those people that practice that different religion. For thousands of years, millions of people have been slaughtered because of different religious beliefs and practices, killed because of the hatred.
I had a dislike for Asparagus early in life I don't recall ever hating my mother as she was trying to pry my mouth open with a spoon filled with that green mush, I just didn't like it, and it did make me react in an angry manner. I didn't like the color, smell, or taste of it. I naturally was angry, but that natural anger never turned into an un-natural "Hatred" towards my mother. As an adult, I discovered that I actually LOVE Asparagus, as long as it's not boiled in a pot of water until it becomes mush, (how my friend Phil cooks it). I prefer steamed until "Al dente", or grilled.
I can say that I have never developed (learned) to dislike or hate anyone whose skin is a different color than mine, or whose religious views are different than mine. I do however, have a dislike of ANY religion that persecutes others who practice a religion that is different from their own. I abhor anyone who persecutes and kills others "In the name of their God". Do their actions upset me? Yes, I don't "Like" what they do. Do I get angry? Sometimes, but generally no, because I know that anger begets hatred, so as much as possible, I try to show love towards them, "For they know not what they do".
Bottom line, for most of mankind's recorded history, we have slaughtered other people mostly because of religious differences. Coupled with those differences, racial bias and hatred have tagged along as the result of the shitty part of our evolution as a species. At this stage in our evolution, we see more and more people waking up, and abandoning their former superstitions/religions and realizing that ALL of our species is one, and equal in every respect. It's not another "Conspiracy Theory", it's part of our evolution as a species. I believe that in spite of ALL the various thoughts, beliefs, and conspiracy theories that are out there, mankind is coming to a "Fork in the Road" as far as our evolution as a species is concerned. We are "Awakening", and I believe that as a species, we WILL take the correct "Road" when we arrive at that "Fork in the Road".
Love will be victorious. Peace and Harmony shall prevail. The answer is simple. Love thy neighbor as you love yourself. Exercise your compassion and understanding instead of resentment, anger and hatred. Recognize that we truly ARE one species, that we ALL are part of the human race. Let's do this, together. Be a "Practitioner of Love", not a "Soldier of Hatred".
P. S. There is no good reason to kill another human being, not hatred, not even for revenge. It's almost supernatural when you experience the awesome power of "Forgiveness" as it triumphs over everything negative including hatred and desire for revenge. Ask me how I discovered "Forgiveness" for my step-father for beating my mother to death when I was young, after a hatred and desire for revenge that was part of a significant portion of my life, for many years, and the negative aspects of that hatred. To know "Love & Forgiveness" is true "Salvation" wither you are religious, or an atheist as I am.
Peace & Abide, La paz y la morada, السلام والالتزام , שלום ושמירה, Paix et Demeure, Խաղաղությունը եւ մնալը, Мир и пребывание,, 平和と遵守, 和平與恪守, Aştî û Abad, صلح و عبید, Fred och Abide, Kapayapaan at Patuloy, Frieden und Bleiben, Mir i Ostanite, शांति और निवास, Hòa bình và ở lại, Мир и Абиде, שלום און בלייַבן, สันติภาพและการปฏิบัติ, Mir in bivanje,

Dr. T. C. Saxe, DD, RSISHE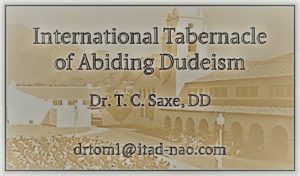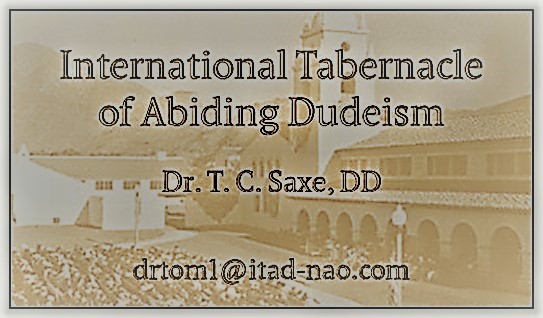 Monetary Donations to The International Tabernacle of Abiding Dudeism, ITAD-NAO are TAX-DEDUCTIBLE, (excluding Reese's Peanut Butter Cups and Home-Made Venison Jerky, that'll be our little secret)
90% of your donations (except for the Reese's Peanut Butter Cups and the Home-Made Venison Jerky) will go directly to verifiable sources that provide humanitarian aid around the world beginning with those legitimate groups that give aid to Palestine and the Palestinian people. Other immediate areas and causes that will receive financial support from ITAD-NAO will be legitimate groups that aid the people of Yemen, and other known areas around the world that are in crisis. In addition, ITAD-NAO will also contribute directly and indirectly to the needs right here in the good ole' USA, like helping the Homeless, and the poorest of the poor achieve better stations in life.
The remaining 10% will be used to maintain the ITAD-NAO Website once it is programmed and fully operational. In its final configuration it will be ENCRYPTED with an encrypted "Communication Suite" for Email, Texting and Video-Chatting. A significant part of the "Communications Suite" will be the ability to include 10 to 15 "Practitioners" (not Parishioners) in "Group Conferencing", and perhaps large convention-type assemblies via closed-circuit TV and the website portal. This is the #1 priority for ITAD-NAO.
If any attorneys happen to read this, we do need your assistance to help with all the legal aspects that we need help with.
If you happen to be a Millionaire or Billionaire and you feel inspired to help us financially, please contact us at your earliest convenience for an in-depth discussion on how we feel our organization can help change our world and it's people in a very significant and positive way.
If you happen to be a regular visitor to this website and you not only enjoy my writing but you are also "Like-Minded" with my concerns and my efforts, please "Click" on the PayPal "Donate" button below. It will take you to the ITAD-NAO PayPal donation form. One dollar, or 25 thousand dollars will be equally appreciated, AND used for ITAD-NAO project, and like was previously mentioned, your donation is 100% Tax-Deductible. (The Reese's Peanut Butter Cups and the Home-made Venison Jerky will be eaten by the ITAD-NAO staff).
Thank you one and all,
Some immediate needs. On a volunteer basis for now, we need a WEBMASTER who can work on the ITAD-NAO website, we need a person skilled in "Crowd-Funding" and/or "Director of Charitable Giving", we need an attorney to help in the legal matters for ITAD_NAO, including setting us up as a tax-exempt "Church", we need a Certified CPA to insure the financial integrity of the ITAD-NAO organization, we need a "Chief of Security", we need a film-maker, first for YouTube, eventually for larger platforms, plus a few other positions. We believe that somewhere down the road, a Billionaire will step up to the plate and write a check for $50 Million or so, which will turn those volunteer positions into paid positions.
For my faithful readers that are aware that I'm finally working on "The Dead Armadillo" story, like say, a Producer, or a Director, or a Screenwriter or someone or a company that desires to option my novel, you can contact me at any time, night or day. If you are a one of those faithful readers that wish to read and follow my progress as I work on this novel, I will be posting updates as a PDF file on every new post on this website/blog. Here's the latest of "The Dead Armadillo"
TheDeadArmadilloManuscript112619
Click on a link here to share:   
This website is not filled with a bunch of "Click-On" ads for the latest in "Toothbrushes" "Fashion" or "Free trips to wherever" generating millions of pesos in income. We are not seeking your financial support as a primary goal or function of this website, although we know at some point, that we will have the necessary funding to carry out our mission at ITAD-NAO. First and foremost, If you feel this is worthy of your financial support and you do donate, that's great, and we sincerely thank you, but first and foremost we are looking for your involvement with whatever skill-sets you may have to offer. Communicate with us, help us organize, help us plan, and help us execute the plan.  Thank you
Send Dr. Saxe a comment using the form below: